Focus on Compact Equipment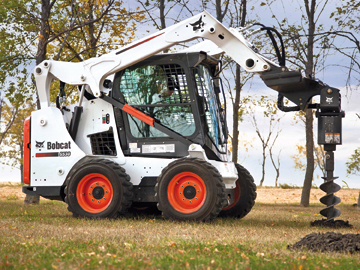 Bobcat Launches Tier 4 500 Frame-Size Loaders with Non-DPF Emissions Solution
Bobcat Company has released its first Tier 4 loaders – including a non-diesel particulate filter (DPF) engine solution. The 7 medium-sized machines make up the most popular size class in the Bobcat® loader family and provide operators with all of the same performance benefits of the previous interim Tier 4 models.
The Tier 4 Bobcat non-DPF solution was achieved by designing an ultra-low particulate combustion (ULPC) engine. The ULPC is accomplished through a specially designed engine combustion chamber that significantly reduces the amounts of particulate matter created during combustion. Therefore, Tier 4 emissions compliance can be achieved without using a DPF.
In addition to eliminating the need for a DPF, the new engines used in 500 frame-size loaders will have 4 to 12% increase in torque. This increase in torque is produced over a wide range of engine rpm, allowing operators of all skill levels to better utilize the machines' maximum performance.
The S510, S550 and T550 feature a radius lift path, providing operators the reach and visibility they require for dumping over a wall, backfilling or loading flatbed trucks. The S530, S570, S590 and T590 models feature a vertical lift path, providing operators the ability to lift heavier loads higher, making it easier to clear high-sided truck boxes and hoppers, as well as placing pallets.
Source: Bobcat Company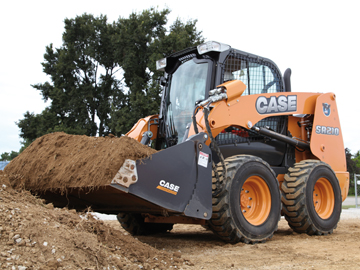 New CASE SR210 Skidsteer Replaces Best-Selling CASE SR200
CASE Construction Equipment introduces the SR210 radial-lift skid steer, a new Tier 4 Final model that features EZ EH controls and best-in-class torque, breakout force and standard auxiliary hydraulic flow. The new machine increases its rated operating capacity to 952 kg when compared to its predecessor, the SR200. The cooled exhaust gas recirculation (CEGR) engine design with particulate matter catalyst helps reduce maintenance and increases engine power by 10%.
The SR210 also features one of the largest cabs and lowest entry thresholds in the industry, improving operator comfort.
The SR210 features a new EZ EH (electro-hydraulic) setup menu that allows operators to switch effortlessly between the CASE "H" operating pattern and ISO pattern controls. It also features 9 preset speed and control settings that can be adjusted on the fly. This allows operators to match controls to their preference for comfort and greater productivity. New handles with additional "feel points" improve confidence and give the operator greater ability to feather the controls.
The machine also features push-button Ride Control™, hydraulic one-way self-leveling, two-speed ground drive, and an advanced instrument cluster with programmable security and automatic shutdown as options.
Source: CASE CE
New E-Series Cat® Hammers
Ten new Cat® E-Series hammers, designed for use with mini excavators, skidsteer loaders and backhoe loaders, are available in both "silenced" and side-plate versions. Four sizes are offered in two mounting configurations for installation on both Caterpillar and competitive carriers.
Silenced hammers, identified with "s" in the model designation, use a fully enclosed housing to suppress noise, a valuable feature in sensitive work environments and in small-machine applications in which the hammer is in close proximity to the operator. Non-silenced, side plate models are available for all four sizes.
Flat-top models allow versatility for installation on Caterpillar and equipment made by other manufacturers. Pin-on models are available for the H55E and H65E in applications that require a dedicated, hammer-equipped Cat machine.
These new E-Series hammers include 47% fewer parts than did their D-Series predecessors. This allows for quicker and easier servicing. When it comes to daily maintenance, a single grease point is conveniently located and easily accessed. Tool changes are accomplished with common hand tools.
Source: Caterpillar
New EDGE® Low Profile Snow Pushes
CEAttachments, Inc. announces new EDGE Low Profile Snow Push attachments for skid steer and track loaders.
The EDGE Low Profile Snow Pushes have been re-engineered for more efficient and reliable performance in moving snow, flood wastewater, manure or other materials.
These new Low Profile Snow Pushes are designed with lower endplates, decreasing the overall height of the pusher to only 65 cm and providing greater visibility for operators. The strength of these new endplates have also been significantly increased by angling the cross brace to the lower corner.
The new design also features a formed upper section, without obstructing visibility, that provides additional strength while acting as a snow deflector. This upper section also features grated step plates to assist with getting in and out of the cab.
The depth of the mount to the moldboard has also been dramatically reduced, improving the performance and maneuverability of the pusher.
The new EDGE Low Profile Snow Pushes are available in 183 cm, 213 cm, 244 cm and 305 cm sizes and continue to feature standard replaceable rubber cutting edges and adjustable skid shoes.
Optional pull-back kits are also available to give an operator the ability to draw materials back from confined areas such as loading docks or buildings.
Source: CEAttachments, Inc.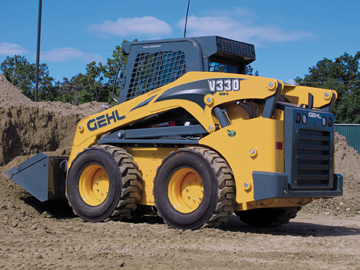 Gehl Introduces Tier 4-Certified Vertical-Lift Skid Loaders in North America
Gehl introduces the all-new V270 GEN:2 and V330 GEN:2 vertical-lift skid loaders, meeting emissions regulations with Tier 4-certified Yanmar 72 hp diesel engines.
Answering the demands of equipment users, the new generation of vertical-lift skid loaders offers the "T-bar" control option - the Gehl brand proprietary control pattern.
The V270 GEN:2 and V330 GEN:2 vertical-lift skid loaders fall into the large-frame category. The rated operating capacity on the V270 GEN:2 is 1,225 kg and on the V330 GEN:2 is 1,497 kg. For those operators and contractors who need large capacity and high loading heights, the V270 GEN:2 offers 3,310 mm of lift height and the V330 GEN:2 offers 3,332 mm of lift height.
Source: Gehl
Hyundai Releases New Interim Tier 4 R25Z-9A Zero Swing Excavator
Hyundai Construction Equipment Americas, Inc. is pleased to announce the all new 9A Series zero swing excavator. The new R25Z-9A provides operators with enhanced features and benefits compared to its prior model including a certified Tier 4 interim (T4i) engine upgrade, improved hydraulics, increased operator comfort and added durability. The excavator is ideal for tight, confined job sites in residential and urban settings with applications ranging from landscape/hardscaping and light construction to light demolition, road and utility work. The R25Z-9A is part of Hyundai's new line of 9A series excavators, all of which meet T4i standards.
The 2,600 kg R25Z-9A is powered by a reliable 23 hp T4i Mitsubishi S3L2 engine. The machine boasts a dig depth of 242 cm, bucket digging force of 4,740 lbf (21.1 kN) and bucket capacity of 0.07 m3. A dozer blade comes standard for light grading, backfilling and for stability while excavating.
The R25Z-9A offers a tail swing radius of 77.5 cm giving end-users easy, efficient operation on sites where space is limited. The compact size and low weight allows the R25Z-9A to be towable by a pickup.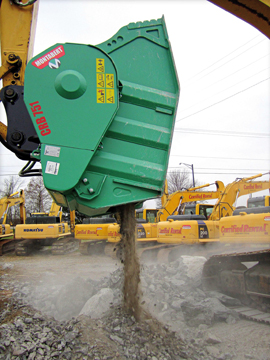 Montabert Crusher Buckets Provide Material Processing Alternative
Montabert crusher buckets provide aggregates producers, as well as construction and demolition contractors, with an all-in-one collecting, crushing and loading solution. Designed for use with a variety of compact and heavy carriers weighing more than 3,175 kg – including skidsteer loaders, backhoe loaders and excavators — Montabert crusher buckets quickly process stone, concrete and asphalt debris, among other hard, inert materials. The resulting material can then be reused on-site or loaded for removal.
Unlike dedicated crushing and handling equipment, Montabert crusher buckets are easily transported from one jobsite to another and are fit for work in confined spaces – such as populous urban centers – as well as in mountainous or hilly regions. In addition to reducing dust and noise levels associated with separate crushing and handling equipment, Montabert crusher buckets help minimize transportation and waste disposal costs, providing operations with a competitive edge.
Montabert offers 7 wide-aperture crusher bucket models, ranging in size from 1,350 to 10,000 kg. With a loaded capacity of 0.38 m3, the smallest Montabert model (L-CRB 301) crushes up to 14.9 m3/h of material at an adjustable output size of between 1 cm and 5 cm. In comparison, the largest model (CRB 2301) boasts a loaded capacity of 2.3 m3, processing up to 120.8 m3/h at an adjustable output size of between 5 cm and 10 cm.
Similar to standard heavy-duty earthmoving buckets, Montabert crusher buckets provide operators with a simple design and straightforward method of operation. Made of high-strength steel and having wear-resistant jaws, Montabert crusher buckets require minimal routine maintenance.
Source: Montabert
Heavy-Duty Machine, Compact Package
Featuring a Perkins 804C-33T diesel engine, the new 71 hp Terex® PT-75 compact track loader is the newest member of the Terex line of Tier 4 interim (T4i) compliant compact construction equipment. Boasting a narrow machine width (178 cm), the PT-75 track loader can easily maneuver and operate in confined or congested work sites, making it an ideal loader for landscape. The low ground pressure prevents damage to the ground and provides extended track life.
The new PT-75 loader is designed with front-mounted, quick-connect hydraulic fittings and an electronic connector for control of attachments, enabling it to use industry-standard attachments. This Terex loader is equipped with a comfortable operator station and pilot-operated joystick controls to reduce operation fatigue and increase production.
Source: Terex Corporation
JRB Side Dump Bucket Simplifies Material Placement
The JRB Side Dump Bucket by Paladin Attachments is manufactured to provide wheel loader operators with more flexibility than a standard bucket can offer in construction and utility applications. This unique bucket can dump material from many angles, making it ideal for confined, hard-to-maneuver areas and jobs that require even material placement over long distances. One side of the JRB Side Dump Bucket is shaped like a standard bucket to hold material, while the other side has a 45° side-shoot dumping angle that allows for full side dumping and angle backfilling. It carries up to 3 m3 and is available in left- and right-hand dump functions.
The JRB Side Dump Bucket features the exclusive JRB sequence valve that locks and unlocks the bucket cradle and side dump function, providing added safety and control during transportation and placement. The standard inside center-mounted lift hook provides operator flexibility for other construction and utility applications that may require a chain or harness to move an object. The JRB Side Dump Bucket is available as a pin-on bucket or is compatible with JRB's Quick Coupler System.
Source: Paladin Attachments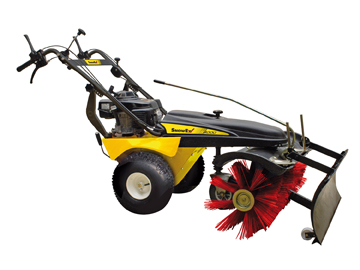 Rotary Broom Provides Ideal Solution for Sidewalk Applications
SnowEx introduces a versatile new walk-behind rotary broom with a plow attachment for snow removal and other cleanup applications. Powered by a 160 cm3 Honda GXV Series engine, the SS-4000 is designed to provide unmatched productivity for sidewalk applications.
The SS-4000 features a floating pivotal broom head with five angle settings to adjust the trajectory of snow and other materials. The 40.6 cm-diameter broom is centrally driven, allowing the unit to work against curbs, walls and other obstacles from either the left- or right-hand side. Brush rotation speed is infinitely adjustable, and down pressure can be increased or decreased by raising or lowering the pneumatic support wheel.
For heavier snow conditions, the operator can install a front-mounted blade attachment, which comes standard with the SS-4000. The 101.6 cm blade uses a unique pin system for easy installation and removal.
Operation is simple, thanks to user-friendly controls and seven-position height adjustment of the handlebars. The unit offers 3 forward gears and one reverse gear, and a locking differential helps the machine drive in a straight path. A freewheel feature is also included to allow easy 360° turning.
The frame of the SS-4000 folds for easy storage, and the wheels are easily removable. Other standard features include winter-tread tires and a corrosion-resistant paint finish. Optional equipment includes a debris collector box for catching material during cleanup applications.
Source: TrynEx International