Laying of natural stones at the University of Oslo
Transport and handling of palletized building material and vacuum installation all in one convinced the Norwegians!
The University of Oslo is the largest and oldest university in Norway. Over 30,000 students are walking daily over the stone paths of the campus. In summer 2013, the stone slabs were replaced by the Norwegian landscape construction company Steen & Lund, headquartered in Drammen.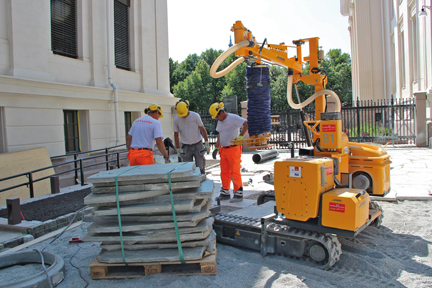 On an area of around 1,700 m2 slate natural stones, each weighing 150 to 200 kg, were installed. To facilitate the work the installation carrier TRANSMOBIL TM built by the German company Probst was used. With this powerful vacuum laying unit, heavy construction elements such as kerb stones and slabs can be transported, picked-up from the pallet and laid exactly in a single working step.
The high lifting capacity of the laying transporter of up to 200 kg when fully extended and upgradeable up to 250 kg at reduced outreach allows ergonomic and economic work even with heavy loads and opens up new areas of application. The installation speed of the TRANSMOBIL TM is up to five times higher than done by manual installation.
The building materials are carried directly by the installation carrier. Thus, the laying with vacuum power is easy and fast and can be performed easily by one person. The vacuum lifting unit even handles building materials with a rough surface effortless and allows for installation without any risk of damage.
The TRANSMOBIL TM-150-D XL is powered by a sound insulated Hatz Silent Pack diesel engine - so the lectures at the University of Oslo could continue to run during construction without being disturbed.