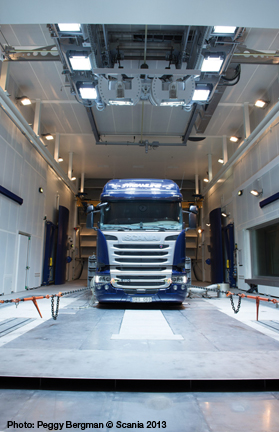 Scania Inaugurates its Climatic Wind Tunnel
Scania has invested SEK 400 million ($65 millions) to build Europe's most advanced climate test facility. With its climatic wind tunnel, located at the research and development center in Södertälje, Sweden, Scania can subject test vehicles to the most demanding weather conditions on home ground, thereby speeding up development and improving performance.
Scania will now be less dependent on field testing and, using the wind tunnel's controlled environment, can shorten lead time from development to product launch. "This unique facility will help us improve fuel efficiency and reduce emissions even further," says Harald Ludanek, executive vice president for Research and Development. "Because we can reduce the impact of snow, rain and dirt, drivers will benefit from a better cab environment and enhanced safety."
In the facility, temperatures between -35°C and +50°C can be simulated, as well as humidity of between 5 and 95%. The air channel system is equipped with a number of small snow cannons to produce various types of snow. The snow can be replaced with rain of whatever intensity desired, and even the drop size can be altered. By adding an ultraviolet (UV) visible chemical to the rainwater, and subsequently illuminating the test vehicles with UV light, it is possible to determine exactly where rainwater and dirt have stuck and how they flow off the vehicle.
The test vehicle is parked on rollers – one for each set of wheels. These allow technicians to simulate speeds of up to 100 km/h, the optimal pace for testing trucks and buses.
Among tests that can be carried out are how components withstand heat and chill, how rainwater flows off vehicles, driver visibility in heavy rain and snow, windscreen icing, wind noise and how dirt adheres to cab sides, rear view mirrors and door handles.
Source: Scania