Storstac Sponsors the "Business in a Box" Charrette
Storstac, Inc., a leading supplier of custom repurposed shipping container solutions across Canada, is proud to co-sponsor with RioCan the City of Toronto Scadding Court Community Centre's "Business in a Box" design charrette.
The charrette was hosted by the community center to share their experiences with their modular marketplace and to gather ideas to expand this model to other areas of the city.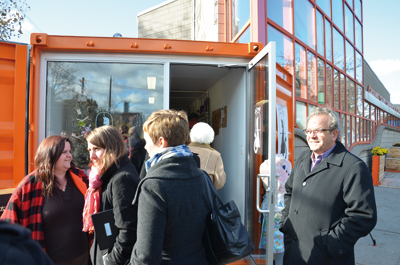 The existing modular marketplace at the City of Toronto's community center at Dundas and Bathurst was designed and manufactured by Storstac between 2011 and early 2013.
"For a retired ISO shipping container this is the end of one journey..." says Storstac president, Vincent Ruggiero, "...and the beginning of a new journey." The modular marketplace has been credited with livening up the community and providing affordable opportunities to entrepreneurs.
Source: Storstac, Inc.