National Crane Beats Time Constraints for EPCOR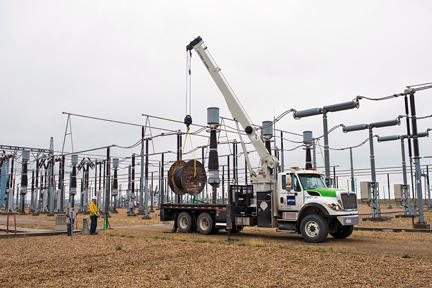 It has been less than a year since the release of National Crane's NBT15 series boom trucks, which offer the longest boom length and highest capacities in their class. The cranes are already having an impact, enabling efficient lifts and easy transport on and among diverse jobsites.
EPCOR Utilities Inc., based in Edmonton, Canada, has been using its new NBT16 – one of 3 cranes in the NBT15 series, also including the NBT14 and NBT15 – to great effect in the energy sector. The company builds and operates electrical transmission and distribution networks in Canada. EPCOR oversees numerous electrical projects, working with heavy, high-voltage electrical equipment that needs to be lifted by a crane.
Time is always a major factor for the company. When it needs to work with live electrical equipment for a project, the power is often turned off, leaving a short window for EPCOR to complete its work before the outage ends and power resumes.
EPCOR's time constraints are exactly what make its National Crane NBT16 so useful. With the crane's efficient transport and setup times, the company is able to move in quickly, complete the required lifts and then rapidly pack up and head to the next jobsite.
Cory Fedoruk, who operates the NBT16 for EPCOR, said the new crane has been a welcome asset. "We work on dangerous jobsites where time is of the essence. We have to de-energize and ground the equipment we work on," he said. "We have limited outages on most jobs, which results in a compressed timeframe to complete our work. The NBT16 can quickly move in and complete the lifts, whereas another crane would take much longer to set up and prep for the job, increasing the cost and time spent on a project."
EPCOR uses its NBT16 to lift such items as current transformers, capacitance voltage transformers, lightning arrestors, capacitors, aluminum busses and transformer components. The NBT16 has a 16 USt capacity, which easily handles EPCOR's lifting requirements.
EPCOR purchased the crane from the Edmonton, Canada, branch of Strongco, an Ontario-based seller and renter of industrial equipment for industries including construction, road building, mining and forestry. Strongco is one of Canada's largest construction equipment distributors with an extensive network of branches across the country and in the Northeastern U.S.
Source: The Manitowoc Company, Inc.