Gaz Métro Salutes Saint-Hyacinthe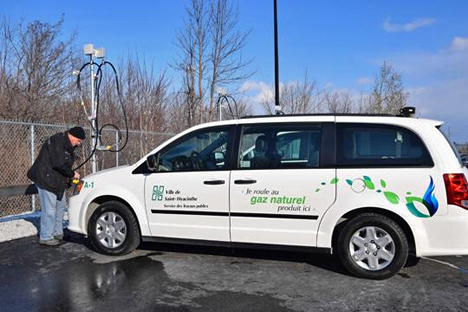 Gaz Métro is delighted with the initiative of the City of Saint-Hyacinthe – the first municipality in Quebec to recover organic materials via biomethanization and to use the renewable natural gas produced to meet its energy needs. Gaz Métro is also proud to include the City of Saint-Hyacinthe as its first client municipality to have selected natural gas to fuel its municipal vehicles.
"Gaz Métro is proud to use its gas network for this promising project, to allow all its clients to take advantage of locally produced renewable natural gas," states Martin Imbleau, vice president, Development and Renewable Energies at Gaz Métro. "Choosing this energy to fuel vehicles is another step toward the intelligent and systematic recovery of organic materials in Québec, by creating an infinitely renewable cycle. We hope that this project will inspire many other municipalities to follow suit."
Note that natural gas generates savings on fuel of up to 40% compared with diesel, in addition to reducing greenhouse gas (GHG) emissions up to 25%. By opting for renewable natural gas as a fuel, GHG emissions decrease by more than 99.4%, considering the fuel's complete life cycle.
Gaz Métro has been working with many partners and road transport companies since 2010 to make sure Québec carriers benefit from the major economic and environmental advantages of switching from oil products to natural gas. To date, there are 350 natural gas vehicles on Québec's roads.
Gaz Métro is the largest natural gas distribution company in Québec, where its network of over 10,000 km of underground pipelines serves 300 municipalities. Gaz Métro is also present in Vermont, where it operates in the electricity production market and the electricity and natural gas distribution market.
Source: Gaz Métro