Big Improvements for Hitachi's Next Generation Wheeled Excavators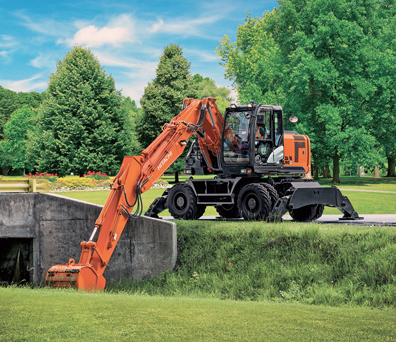 The next generation of Hitachi's wheeled excavator models from Hitachi Construction Machinery – Americas, the ZX190W-5 and ZX230W-5, are rolling out with a certified EPA Tier 4 interim (T4i)/EU Stage IIIB Isuzu engine, power mode buttons for three work modes, automatic exhaust filter cleaning, auto shutdown, an enhanced monitor, centralized remote oil/fuel filter location and more.
Mobile and maneuverable, Hitachi's wheeled excavators sit on a short wheelbase that makes it easy to move in tight spaces – unlike unwieldy truck-mounted excavators.
"The Dash-5 wheeled excavators are packed with improvements designed to provide more efficient power, greater reliability, enhanced durability and a more comfortable cab environment," said Mark Wall, product marketing manager at Hitachi Construction Machinery – Americas. "The two new models are another example of how Hitachi leverages its excavator expertise and legacy of meeting demanding mining applications to deliver an unmatched experience for operators."
The 16,260 kg ZX190W-5 and 23,275 kg ZX230W-5 are powered by a 159 hp, 5.2 l Isuzu engine that uses a rudder frame block design with dry cylinder liners. The 4-ring design helps reduce oil consumption and blow-by gases into the crankcase while improving lubrication. In addition, the oil-cooled crown efficiently aids with heat dissipation.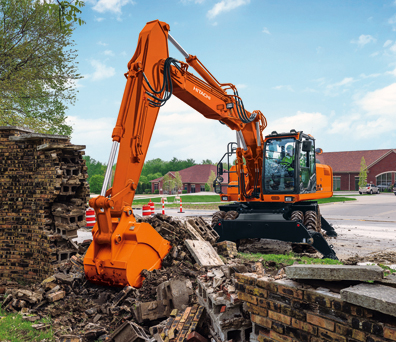 Both machines now feature a Power Dig function, which enables the operator to give extra hydraulic pressure for eight seconds at a time. An Auto Power Lift feature engages when only the boom is raised, giving operators extra lift while craning with no need to push the button.
A new Power Mode button allows operators to easily select between three work modes. The high power (HP) mode deploys when extra horsepower is needed for rolling in the arm or booming up during excavation work. Economy mode and Power modes can be used to lower the engine rpm and burn less fuel.
The spacious and comfortable cab comes equipped with an easy-to-navigate enhanced LCD monitor that lets an operator easily access a wealth of machine info and functionality. Other features include an integrated radio, HVAC, English and metric units and 31 supported languages.
The integraton of a rear-view camera enhances visibility behind the machine, making it less likely the excavator will be damaged from swinging or backing into objects.
Finally, on both the ZX190W-5 and the ZX230W-5, filters are now conveniently located in the pump compartment for easy and quick servicing.
Hitachi's next generation wheeled excavators feature a proven Isuzu exhaust after-treatment system.
The engine's diesel oxidation catalyst reacts with exhaust gases to reduce carbon monoxide and hydrocarbons, and the diesel particulate filter (DPF) traps particulate matter. In-cylinder fuel dosing occurs when a certain amount of fuel is injected near the bottom dead center, close to the exhaust stroke of the 4-stroke cycle. The harder the machine is run, the higher the exhaust temperature. This in turn will result in more "Passive" filter cleaning will occur, which does not require fuel dosing. "Auto" filter cleaning happens as needed but requires fuel dosing to raise DPF inlet temperature.
The auto-shutdown feature is also new to both wheeled excavators. This fuel- and money-saving feature will automatically shut down the machine if predetermined conditions are met.