Kubota Canada Is Pleased to Announce 2 New Additions to Its Wheel Loader Line-Up
Kubota Canada Ltd. announced recently that it will be adding two new models to its compact wheel loader lineup. The new R530 and R630 have been designed emphasizing comfort and efficiency and will be equipped with powerful Kubota diesel engines and advanced features.
All new inside and out, the 2 new models will feature a choice of a 4-post ROPS/FOPS canopy or deluxe factory cab with air conditioning. The new factory cab will feature low noise levels and high visibility along with fresh and modern styling and a lower cab height. The ergonomic interior layout will be packed with standard features including suspension seat, tilt steering, exterior mirrors, lights, and digital display.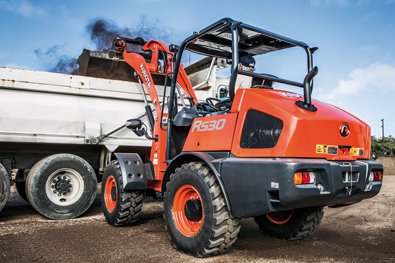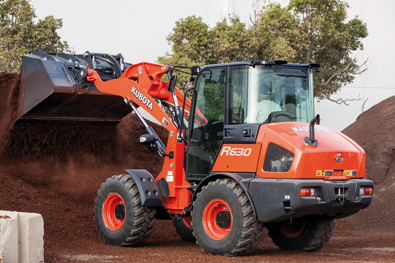 The R530 will feature a Kubota 51 hp Tier 4 final diesel engine using a common rail system (CRS) and diesel particulate filter (DPF) coupled to its tried and true hydrostatic transmission (HST). A 64.4 hp version of the engine will power the R630 but it will use an advanced electronic hydrostatic transmission (E-HST) offering 4 different operating modes which will allow the operator to choose the most suitable mode depending on the machine application.
The R30 series loaders will showcase Kubota's new hybrid link system which blends the best features of parallel linkage and Z-bar systems and will allow operators to lift fully loaded pallets up and down while keeping the loads level and at the same time, giving full breakout force when in bucket mode. A choice of either skid steer or euro type hydraulic coupler will be available on both models with bucket sizes starting at 0,64 m3 for the R530 and 0,7 m3 for the R630.
Both R30 series wheel loaders will be available with either standard R4 bias, industrial L-2 radials or Nokian radials with TRI 2 tread design for traction in snow applications exclusive to Canadian customers.
Kubota Canada Ltd. is the Canadian marketer and distributor of Kubota-branded equipment, including a complete line of agricultural tractors, compact and utility-class construction equipment, consumer lawn and garden equipment, commercial turf products and utility vehicles.
Source: Kubota Canada Ltd