Lafarge and Bevcon Combine Aesthetics and Functionality for a Fast Draining, Long Lasting Pervious Concrete Pavement Solution
Specializing in concrete and paving, Bevcon Construction has created a new finish for Hydromedia, Lafarge's industry leading pervious concrete. Hydromedia with Aquatere combines the strength and function of Lafarge's Hydromedia with Bevcon's innovative Aquatere finish.
This enhancement provides both aesthetic beauty and increased functionality to paved surfaces.
Using Lafarge's Hydromedia as a base material, Bevcon has created Aquatere to provide an attractive look without compromising strength or function. Its flexural strength is comparable to that of conventional concrete pavements creating an ideal solution for managing storm water run-off from walkways, parking lots and driveways.
"We believe Hydromedia should be the industry standard for pervious concrete," says Massimo Tutino, project manager with Bevcon. "With our Aquatere finish, we can now provide the added benefit of reduced maintenance in addition to increasing the aesthetic appeal."
The use of Aquatere does not hinder the drainage ability of Lafarge's Hydromedia, maintaining a permeability rating of 25 - 35%. This allows the system to rapidly direct water back into the natural sub-grade.
Landscape architects such as Kim Allerton of Northwood Associates Landscape Architects Ltd, a 33-year-old firm whose business focuses on public sector work such as schools and streetscapes, found it the ideal solution for a project at St. Francis Xavier Catholic School in Toronto.,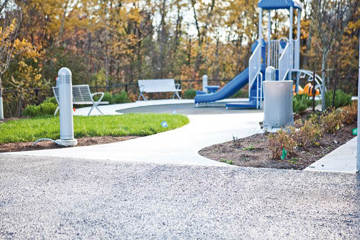 "School boards have been experimenting for about 15 years with various solutions for treating water as a resource rather than waste – for intercepting surface run-off that conventionally is being directed off site and safely diverting it to on-site retention and infiltration zones where storm water would then be passively available for trees and other vegetation," Ms. Allerton says. "Although permeable unit pavers have been used in the past, they have some distinct disadvantages."
Using Hydromedia with Aquatere as the primary drainage system for the entire school parking lot and children's play area has provided a solution that provides a safe hard surface for the 500 students who use it daily. It also keeps the surrounding trees well watered with natural irrigation.
"It has not only allowed water to go through to the ground below but has provided a very durable yet functional solution for the kids' play area. And even for parking where winter snow storage and removal is a major consideration," Kim Allerton adds.
While aesthetics may not always be a priority when drainage is the main concern, Hydromedia with Aquatere is able to achieve an aesthetically-appealing decorative surface that eliminates virtually all loose or unbonded aggregate materials typically found in standard pervious concrete finishes.
Hydromedia with Aquatere can level out any high or low spots for a more consistent finish. It can also provide variable surface traction levels.
Bevcon was last year's winner of the 2013 Ontario Concrete award for material development and innovation.