Ledcor Purchases Two-Hundred Natural Gas Vehicles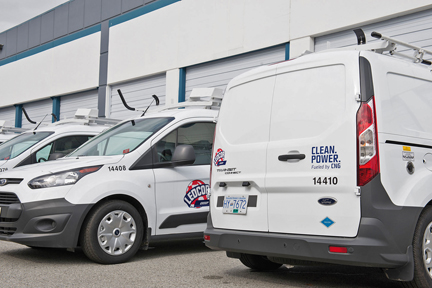 The Ledcor Group of Companies recently announced they will take ownership of over 200 compressed natural gas (CNG) vehicles, creating one of the largest fleets of CNG vehicles in Canada. The 2014 and 2015 Ford Transit Connect cargo vans have been converted by G.W. Anglin Manufacturing to incorporate CNG fuel systems from Altech-Eco, making them the first vehicles of their kind.
"Converting a significant portion of our light-duty vehicle fleet makes good economic sense for Ledcor and is aligned with our sustainability goals," said Scott Lyons, COO, Ledcor Technical Services. "We estimate we'll reduce our annual fuel costs by about 30% and reduce our green-house-gas emissions by approximately 23% or 2,000 t of CO2e per year."
Ledcor has invested over $10 million in natural gas vehicles to date. Each vehicle incurs a significant upfitting cost associated with converting the vehicle to run on CNG. The costs are partially offset by FortisBC's incentive program, for the vehicles deployed to operate in British Columbia. Ledcor also owns 15 Class 8 liquefied natural gas (LNG) trucks. The CNG vehicles will be deployed throughout British Columbia, Alberta and Saskatchewan.
"By making a commitment to a compressed natural gas vehicle fleet, Ledcor is an innovator, benefitting the environment and our gas customers," said Doug Stout, vice president, Market Development & External Relations at FortisBC.
"Natural gas is a cleaner-burning, lower-priced fuel that is abundant in British Columbia, and we are dedicated to working with industry leaders like Ledcor to take advantage of the opportunities for this fuel source."
Natural gas vehicles have significantly lower exhaust emissions than typical vehicles. The vehicles also see less corrosion and wear in engine parts, resulting in a more durable, productive and reliable vehicle fleet.
"Ledcor is setting the bar high and showing the way for other fleet owners in Canada. Not only were they one of the first fleets in Canada to operate factory-built natural gas highway tractors, their new fleet of Ford Transit Connect cargo vans is unprecedented in scale, Ledcor is well-positioned to start to reap the benefits of lower cost fuel and a reduced environmental footprint from their operations," said Alicia Milner, president of the Canadian Natural Gas Vehicle Alliance.
Pioneering an entirely new vehicle type presented many challenges for Ledcor and its suppliers, including crash testing a newly converted vehicle to meet Transport Canada requirements.
"The arrival of the popular Transit Connect has given consumers a reliable, durable and versatile vehicle for small business proprietors and large fleets alike," said Mike Traub, director of Fleet Sales, Ford Motor Company of Canada, Limited. "We are thrilled to have Ledcor building its CNG project around our product as we continue to offer our fleet customers the power of choice that best suit their business needs."
The Ledcor Group of Companies is one of North America's most diversified construction companies, serving the building, oil & gas, infrastructure, mining, power and communications sectors. The firm also owns operations in wastewater treatment, property investment, forestry, and transportation services.
Source: Ledcor Industries