Neal Manufacturing Storage Tanks Feature Quality Components, Impressive Agitation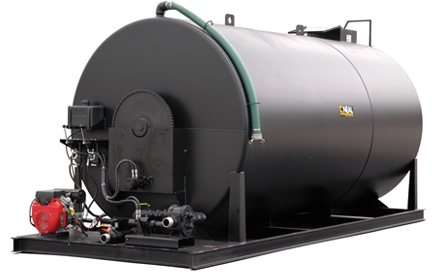 Neal Manufacturing, a division of Blastcrete Equipment Company, offers long-term storage solutions for coal tar and asphalt emulsions with its skid-mounted Sealer Mixer Tanks.
Neal manufactures its storage tanks with high-quality components and heavy-gauge materials for impressive durability, reliable agitation and exceptional material transfer. In addition, they allow contractors to save money by purchasing material in bulk and they can store it safely at their sites for quick and easy access.
Neal Manufacturing's storage tanks are formed with high quality I-beam or channel steel skids. For extra support, the company manufactures the tanks with corner braces to keep them securely fastened on the skids.
The storage tanks' agitators are manufactured with a solid steel shaft. Not only is this design stronger, but it also enables the unit to mix thicker materials and break up settled product to optimize mixing power. Further, with the unit's exclusive offset agitation, 2 of the 3 blades are submerged in the material at all times. This is crucial when it comes to breaking up settled material. In addition, Neal uses a 100-tooth sprocket that is more than twice the size of competing storage tanks to propel the agitation.
A Ranger™ gear pump reliably transfers materials out of the tank and into sealcoating equipment. The operator control panel serves as the control for both pumping and mixing. A 60 cm manway allows easy access for cleaning and maintenance.
The unit is equipped with an 18-hp Kohler Command gasoline engine, which delivers over twice the power of competing units. The Kohler can be replaced with an electric motor for indoor storage tanks near a power source.
Neal has been leading the mechanized asphalt sealcoating equipment industry since 1977. The company pioneered the development of ride-on squeegee and self-propelled machines, as well as 380 l/min electrically-controlled super sand pump (ESSP) hydraulic piston pump systems, which were industry firsts.
Source: Blastcrete Equipment Company