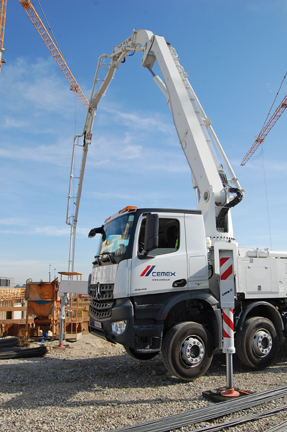 Great Performances at the Lake City

A large residential area called Seestadt ("Lake City" in German) is under construction in Yella-Hertzka Park, near Vienna, Austria. On the jobsite, a K42L truck-mounted pump was used by Cemex.
The Mexican multinational that manufactures cement, aggregates, and concrete, has recently purchased this machine from Hittmayr Baumaschinen GmbH, Cifa's exclusive dealer for Austria.
Philipp Hittmayr, the owner of the company, based in Redlham, explains that they had been selling Cifa vehicles since the 1980s when his father Franz relied on this trademark for the first time. Over time, Cifa has grown in quality and technology, to become one of the world leaders in the industry.
"Being part of the Cifa family is a great advantage," said Mr. Hittmayr. "It allows us to provide clients with high-capacity machines with the right weight, thereby meeting the strict restrictions in force on the roads in Austria, Germany and Switzerland."
The K42L is the star of the construction site, it represents one of Cifa's latest products. The machine stands out for its state of the art pumping unit, the RZ 5-section boom, and the Smartronic™ system.
"The Smartronic™ is a system that can automatically detect all the machine's positions, thanks to a number of sensors," explains Marco Calandi, product manager at Cifa. "This ensures 3 levels of safety during boom movement, based on the stabilisation system chosen by the operator."
Smartronic™ also allows complete diagnostics for all the components of the truck-mounted pump.
Cemex has an office in Vienna and approximately 40 concrete plants across Austria. It relies on a fleet consisting of truck mixers, one mixer pump, and 50 truck-mounted pumps. The K42L is the first Cifa machine purchased by this group.
Source: Cifa S.p.A