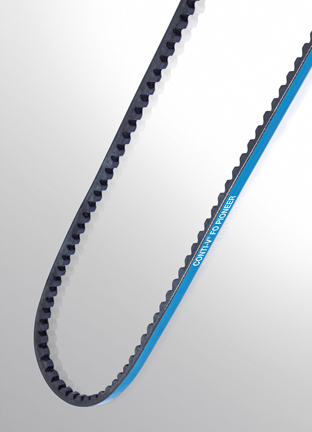 Raw-Edge V-Belt from ContiTech:
More Power, Longer Service Life

With the FO Pioneer, the ContiTech Power Transmission Group introduces a high performance raw-edge V-belt for drive solutions in machine and plant engineering. Compared to the FO Advance, the FO Pioneer offers up to 20% more power transmission and longer service life – a development that demonstrates the extensive material expertise of the specialist in rubber and plastics technology.
The raw-edge drive belt is oriented towards the needs of the industry. It owes its improved product properties to its base material ethylene propylene diene monomer rubber. "EPDM has numerous advantages over conventional rubber compounds," explains Regina Arning, head of the industry segment at the ContiTech Power Transmission Group. "The material is dynamically more stable and has a higher temperature resistance ranging from -40°C to + 120°C."
A sub-construction made of EPDM forms the basis, a tensile member made of polyester and a cotton cover provide more stability. The new belt is resistant to dust and tropical conditions, it is also conductive according to ISO 1813 as well as partially oil resistant. It replaces the FO Advance in dimensions up to 2,932 mm. "Our customers benefit from a consistent development, whereas the price level remains the same," says Regina Arning. For applications that require belt lengths over 2,932 mm, ContiTech continues to offer the V-belt FO Advance.
The ContiTech division is one of the world's leading suppliers of technical elastomer products and is a specialist in plastics technology. It develops and produces functional parts, components, and systems for machine and plant engineering, mining, the automotive industry, and other important industries.
Source: ContiTech AG