Leading Crane & Rigging Company Bolsters Fleet
with Faymonville Trailers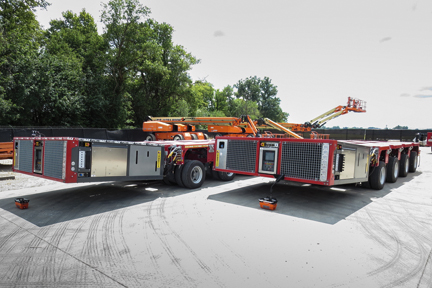 Sterett Crane & Rigging has reinforced its machine fleet with 6 self-propelled vehicles from Faymonville. The SPMC self-propelled vehicles provide unprecedented range for Sterett.
The Belgian manufacturer Faymonville offers SPMC self-propelled "PowerMAX" vehicles for the heavy and special transport sector. These vehicles are used when conventional heavy load tractor units no longer have the pulling force for heavy loads, or when sufficient space is not available.
Powered by a 320 hp diesel engine, the SPMC provides endless power with its 170 kN force per axle line. "With these power packs, more modules with driven axles can be supplied. Thus loads of several thousand tonnes at optimum distribution can be moved safely and easily," says Paul Hönen, North American sales representative for Faymonville.
Sterett Crane & Rigging has 6 locations in a radius of about 1,600 km. The renowned crane and transport provider can now greatly expand its range.
Paul Hönen notes that the easy handling of these high-tech products is what convinced Sterett to make the purchase. "The operator guidance of the SPMC system is absolutely user-friendly. The clear touchscreen display indicates all relevant process and transport data quickly and clearly. The driver immediately gets an overview of the selected settings," he says.
Source: Faymonville Distribution AG