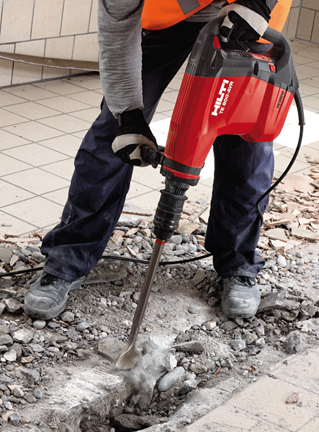 Breaking barriers. Hilti Breaker TE 800-AVR

The new Hilti Breaker TE 800-AVR featuring Hi Drive technology helps deliver an exceptional 20 Nm of impact energy to break through barriers of demolition performance.
With best-in-class power and comfort, the D-handle design offers versatility for optimal horizontal and vertical breaking for demolition work on walls, correction work on floor slabs, and breaking out opening for doors and windows. And, using the new Hilti Wall chisel TE-SW delivers more impact energy and control when working with wall demolition.
For increased lifetime of the TE 800-AVR, it is equipped with Hilti's triple chamber sealing and an active cooling system with an intelligent air flow design. The triple chamber design isolates the hammering mechanism, the piston area and chuck helping prevent dust and other harmful external elements from entering the gearing decreasing repair frequency and extending the tool life.
The active cooling system provides an active air flow over electronics, motor, gear and hammering mechanism towards the tool chuck, resulting in much lower operating temperatures. This system provides the operator a cooler tool surface temperature while also increasing the life of seals and lubrication oil.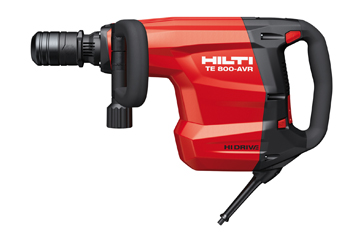 The TE 800-AVR also features the lowest vibration values in its class thanks to Hilti's innovative Active Vibration Reduction (AVR) sub-chassis system which cuts vibrations up to two-thirds when compared to conventional tools.
The Hilti TE 800-AVR is built to provide long-term service under the most rugged conditions. For added peace of mind, the TE 800-AVR is backed by Hilti Lifetime Service, a unique service agreement that includes 2 years of no-cost coverage.
Source: Hilti, Inc.