K-Tec Expands into Land Leveler Market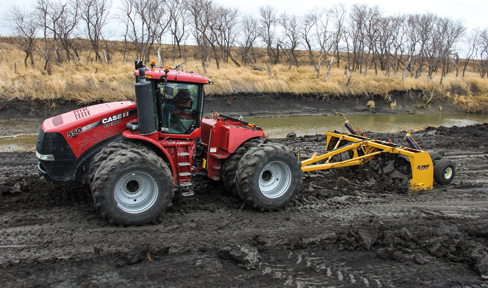 K-Tec Earthmovers Inc. has released a new line of land levelers to expand the company's product offering to earthmoving contractors and land forming professionals. The K-Tec land leveler has been designed for maintaining haul roads, precision site leveling, and field drainage. K-Tec's heavy duty land levelers range in size between 3 and 8.5 m widths.
Various advancements are included as standard features such as walking axle, single simplistic tilt, depth level gauge, and LED light package. A unique moldboard curve design enables superior rolling of dirt. The units are also compatible with dual GPS/laser for precision grading work.
The models come in either a Rigid frame, or a Flex hitch design. The Flex models enable the folding back of the hitchpole for a legal road transportation widths of under 2.6 m to transport the leveler between jobsites.
"We have been looking for an effective solution to diversify our product offering," states Russ Goossen, K-Tec's CEO. "The K-Tec land leveler is an exceptional complimentary piece of equipment to our bulk earthmoving scrapers. The levelers are essential for maintaining a proper haul road and completing the finish work to grade. Our hope is for contractors to find K-Tec as the premier, one-stop-shop in earthmoving and land forming equipment."
Source: K-Tec Earthmovers Inc.