Wirtgen's Mineral Technologies Days
Luc Lachapelle, president Groupe Bauval,
Special Collaboration
---
Benninghoven GmbH & Co. KG hosted the Wirtgen Group's 8th international industry get-together in 2015. More than 2,500 trade visitors from over 100 countries were treated to a demonstration of practically oriented and pioneering solutions from the Wirtgen Group mineral technologies business sector at the home of the asphalt mixing plant specialists in Mülheim an der Mosel, in Germany.

Last September 17-18th, I was privileged to travel to Germany for a visit of the production and demonstration sites of Wirtgen, specifically the Benninghoven plants located in the cities of Wittlich and Mülheim, 90-minute from Frankfurt
Wirtgen dedicated tremendous efforts to ensure that all visitors enjoy a flawless stay: accommodations, transportation, meals, refreshment stations, and to top it all, an amazing show worthy of international productions! During our stay, they also strongly confirmed the acquisition and integration of Benninghoven, thru the voices of Stefan Wirtgen and Jürgen Wirtgen.
The 3 Wirtgen demonstration axis are Kleemann, Benninghoven and asphalt recycling and finally, with Wirtgen, the specialised equipment such as cold mixing plants and "surface mining", concrete crushing material, and so much more… Each brand was supported by a knowledgeable team who answered technical questions with competency and pedagogy. The staff on-site sometimes included the tools and work processes' designers themselves. In all, I was personally impressed by the overall experience.

However, what struck me the most, was to realize that here in Québec, we are told about austerity, shortage of resources, high costs for aggregates and asphalt. Meanwhile, engineers/designers, elected officials and public administrators are, for the most part, against recycling… Find the error!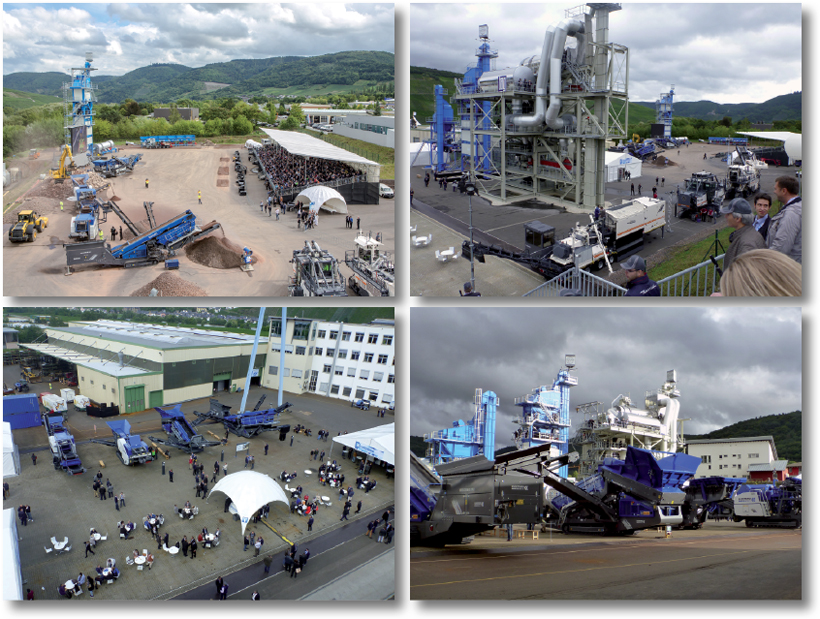 In Europe, recycling concrete and asphalt to a maximum is an obsession, even up to 100%.
Here, we still come across total bans of recycled material… hard to conjugate resource management through recycling and austerity! Is it our mission to preach to, educate and convince the contractors?
In Québec, many businesses master the art of concrete and asphalt recycling. We must encourage them to do more and better, and continue to be inspired by Wirtgen and other European technologies!