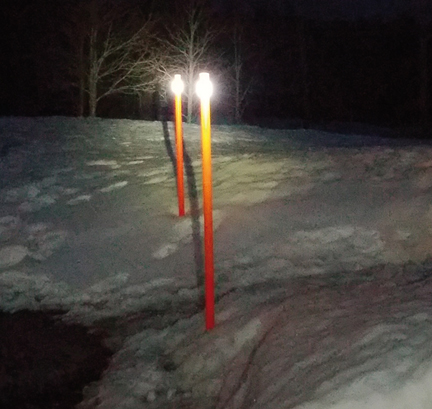 Miracle Markers

Everyone living in a snow region needs them. They are used in private driveways and commercial parking lots, by snow removal contractors and municipalities. Snowmobile and four-wheeler clubs, downhill and cross country ski resorts and hiking trails all require markers to indicate directions or dangers to keep users safe and on the beaten path. Standard markers seem to be anything but "standard". They do not look professional.
They are made from anything available resembling a stake – rebars, 2x2s, pieces of coroplast, fiberglass whips with a "supposed" reflector on the top. But most are fraught with undesirable downsides. Besides being, in general, eye-sores, many can splinter, warp, bend irreversibly in snow banks, rust and rot. They are dangerous for kids, dangerous to install, dangerous for scratching vehicle paint and to top it off, are often discarded at the end of winter because they are hard to store, need cleaning, need painting, are bent or warped or are just a pain in the butt. True, the fiberglass whips solve some of the problems but are not highly visible, have little reflective power and have no practical way to flaunt any commercial message or identification.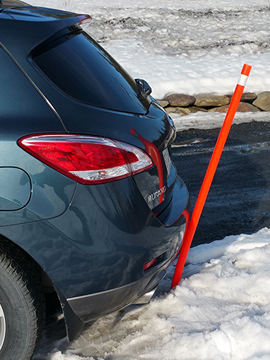 Miracle Markers are the ultimate solution to all the above problems. Use them to delineate or mark anything... professionally.
A 41 mm exterior diameter provides plenty of room to attach stickers displaying any commercial message or contractor identification.
Danger signs, route numbers or other indicator panels can be screwed directly into the high density polyethylene ultraviolet-protected markers. Custom lengths and colors are available. Standard size is 152 cm (plus an 20 cm angle iron extension for implantation). Miracle Markers remain flexible in the coldest temperature and will not kink if bent. They weigh less than 900 g. Contractors have the option to purchase "assembled complete" or non-assembled. Many purchase large quantities of the tubes only and cut and install their own angle-iron feet during seasonal downtime, saving assembly and shipping costs. Custom colors of 5 cm conspicuity tape (often used to identify the underlying surface material) provide a 360° reflection up to 1 km.
Cities or contractors can reserve their "exclusive" custom color, deterring theft and promoting their business or identification.
Source: Securitrim 2002 Inc.