Nominations
---
Digi-Star annonce la nomination de Kevin P. Klubertanz au poste de président-directeur général de Digi-Star et RDS Technology. RDS Technology fait partie de Digi-Star depuis son acquisition en Novembre 2012.
Monsieur Klubertanz est chargé d'intégrer davantage les entreprises Digi-Star et RDS Technology et de travailler en collaboration avec les autres entreprises de Topcon.
Kevin P. Klubertanz travaille chez Digi-Star depuis environ 20 ans. Il a débuté comme ingénieur et a occupé plusieurs postes de direction. Il était, jusqu'à tout récemment, directeur général de Digi-Star Amériques.
Digi-Star LLC, une société Topcon Positioning Group, est basée à Fort Atkinson, au Wisconsin. Elle possède des installations et des entreprises supplémentaires aux Pays-Bas et au Royaume-Uni.
Source: RDS Technology Ltd
---
Anthony Durocher, directeur de la succursale United Rentals Division Étançonnement de Montréal, est fier d'annoncer la nomination de Pierre Larivière à titre de représentant spécialisé en étançonnement.
Avec plus de 12 années d'expérience dans le domaine du génie civil, monsieur Larivière se joint à l'équipe de spécialistes en étançonnement de Montréal pour répondre à vos besoins de l'estimation à la conception de vos projets de sécurité en tranchée.
Source: United Rentals Division Étançonnement
Appointments
---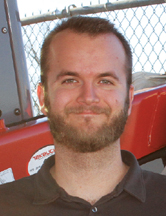 Takeuchi-US, a global innovation leader in compact equipment, has announced promotions in their parts department and parts warehouse. Cameron Wilson has assumed the role of Parts Warehouse manager and Cody Ackerman has assumed the role of Regional Parts manager, effective immediately.
As Parts Warehouse manager, Mr. Wilson will be in charge of parts shipping and receiving. Mr. Ackerman is responsible for handling all of the parts business and issues from Ohio to Alaska.
"With the recent expansion of our distribution facility, we have made several new additions to our team. We are fortunate to have a large pool of qualified candidates to draw from when advancement opportunities present themselves," said Mike Ross, director of Operations at Takeuchi-US.
"Cameron brings some very strong leadership skills to the Parts Warehouse manager position, along with a great attitude. Cody's promotion to his position is due to his strong attention to detail and demonstrated commitment to customer service. Both promotions should have an immediate impact on our customer service experience."
Source: Takeuchi-US
---
MasonryWorx, the association representing brick, block and stone manufacturers in Ontario, has a new face at the head of its board table.
Bob Sanders, who joined the board as a director 2 years ago, was recently named president of the organization. He takes over the position from outgoing president Judy Pryma.
"I'm looking forward to continuing the great work our board has accomplished educating consumers, builders and municipalities about the benefits of building with masonry products," said Bob Sanders.
Mr. Sanders has gained deep understanding of the masonry industry through his position as director of Customer Solutions for Shouldice Designer Stone and Fusion Stone. He has worked for Shouldice for the past 12 years and currently oversees national sales.
Over the coming year, Bob Sanders said he will focus on helping MasonryWorx promote the use, understanding and benefits of masonry products and systems in the design and construction of communities across Ontario.
Source: MasonryWorx