Expanded Line of Timken® Deep Groove Ball Bearings
Delivers Run-Quiet Performance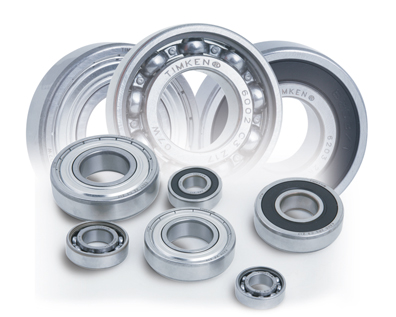 Featuring super-finished raceways and controlled internal geometries, Timken® deep groove ball bearings deliver run-quiet operation, with best-in-class noise and vibration performance when tested against competitors' products.
Timken recently launched its 6000 series deep groove ball bearing line in North America, which completes the company's global roll-out of the series to its OE customer base and global distributor network. The new line, which is used in a wide variety of applications and conditions, meets ISO standards and dimensionally interchanges easily with competitor products. It reflects another step in the company's ongoing commitment to offer Timken customers and end users an even broader range of bearings and power transmission components.
"Timken expanded its ball bearing supply chains to grow its deep groove ball bearing line and deliver product engineered to rigorous Timken quality standards," said Hans Landin, vice president of power transmission products for Timken. "We expect this initiative to improve the competitive position of both the company and our customers." Mr. Landin also indicated that Timken plans to continue expanding its ball bearing offering as part of the company's DeltaX growth strategy. "We want to be the 'one-stop shop' for bearings and power transmission products and services for Timken customers worldwide," he said.
The Timken Company engineers, manufactures and markets bearings and related products, and offers a spectrum of powertrain rebuild and repair services. The company's growing product and services portfolio features many strong industrial brands including Timken®, Fafnir®, Philadelphia Gear®, Carlisle®, Drives® and Interlube™.
Source: The Timken Company