Galaxy Solid Tire Line Offers Solid Choices for Concrete Contractors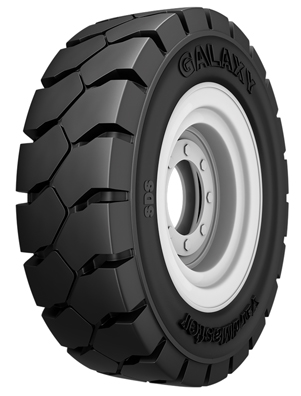 The new Galaxy Severe Duty Solid (SDS) line of solid tires from the Alliance Tire Group (ATG) offers contractors a wide range of outstanding Galaxy design and engineering in solid tires sized for the most popular skid steers, loaders and forklifts.
The Galaxy SDS line is available in a wide range of sizes, with and without apertures.
Bruce Besancon, vice president of marketing for Alliance Tire Americas, Inc., says the SDS solid line is a perfect fit for many of the toughest environments in the concrete and construction industry, including re-paving, demolition and loading broken concrete.
"All in all, what we're seeing is that contractors are looking for a wide range of purpose-built tires that can handle the punishing environments, diverse jobsites, heavy loads and relentless schedules they work in every day," says Mr. Besancon. "With thousands of designs and sizes among our Galaxy, Primex and Alliance brands, we have the tires for the job. Any job."
Source: Alliance Tire Group