Hiab Launches New JONSERED 1500RZ Recycling Crane at Pollutec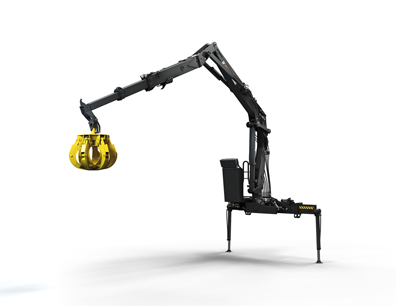 Hiab, part of Cargotec, presented its new JONSERED 1500RZ at the Pollutec exhibition in France. The new recycling crane is meant for scrap metal handling and heavy duty recycling.
"One of the megatrends is urbanization. More and more people are moving in the cities and this sets high expectations for waste handling and recycling. The new JONSERED recycling crane is designed for speedy operations which is essential in urban environments," says Jon Lopez, vice president of Forestry and Recycling Cranes at Hiab.
The new JONSERED 1500RZ supports lower lifetime costs as the fuel consumption is reduced with the variable pump system. The maximum lifting capacity of the new recycling crane is 13,8 tm and its outreach exceeds 9 m. The safety features include Variable Stability Limit (VSL) for increased crane stability, Over Load Protection to avoid crane overloading as well as Load Holding Valve to prevent load dropping. The Operator Protection System protects the driver by preventing the crane from accessing the operator area.
"The new JONSERED 1500RZ crane is designed for total flexibility in operation. The customer can adapt it according to the business needs and choose between top seat, side-mounted top seat or stand-up platform with radio control. To ensure that the crane is well protected in harsh environments, it is painted with the advanced nDurance™ surface protection system," says Toni Ahvenlampi, senior manager, Portfolio Management, Forestry Cranes.
In addition to the new JONSERED 1500RZ, the innovations presented by Hiab at the Pollutec exhibition were:
HIAB X-HiDuo 228 E-5 loader crane: one of Hiab's renewed mid-range loader cranes with an outreach of 17.3 m and weight of just 2510 kg. All HIAB loader cranes come with a 2-year standard warranty.
MOFFETT M4NX truck-mounted forklift: the next generation truck-mounted forklift with an efficient power-to-weight ratio.
Latest innovations from MULTILIFT: How MULTILIFT hooklifts can contribute in the field of recycling.
HiVision™ control system concept which moves the crane operation to the truck cabin. The forestry crane operator can control the crane with the help of virtual reality goggles. HiVision™ has recently been opened for orders. Pollutec visitors had the opportunity to test the groundbreaking system with a simulator.
The Pollutec exhibition, focusing on environmental equipment, technologies and services, took place in Lyon, France from November 29 to December 2, 2016.
Source: Cargotec