JCB Loadall Telehandler Gives a Lift to Capitol's Holiday Celebrations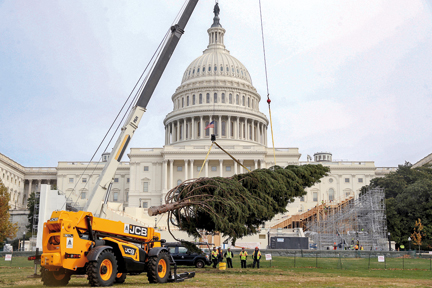 Then it was time to erect one of the world's most high-profile Christmas trees, one telescopic handler was there to help get the job done – a JCB Loadall.
The JCB 507-42 Loadall was called in to perform the honors of assisting with the installation of an 24.3 m Engelmann spruce on the lawn at Capitol Hill in Washington, DC.
The tree was transported from Payette National Forest in Idaho to stand in front of the world-famous landmark of the United States Congress building during the holiday season. The Loadall, which can lift 3,175 kg up to 12.8 m, is manufactured at JCB's World HQ in Rocester, Staffordshire, UK.
A JCB spokesman said: "This year has been a milestone one for JCB Loadalls, as the company celebrated the production of its 200,000th telescopic handler. We are delighted to end the year with a Loadall helping get Christmas celebrations underway in the American Capital."
Next year, JCB will mark another remarkable milestone – 40 years of making Loadall telescopic handlers, which have revolutionized how materials are handled on construction sites and farms.
Source: JCB Inc.