Mack® GuardDog® Connect Now Standard in Mack LR Models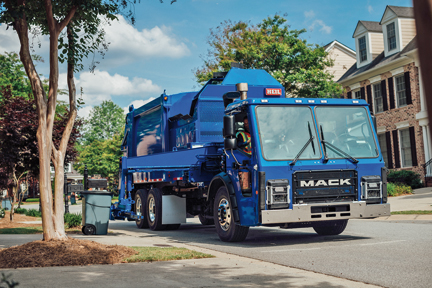 Mack® GuardDog® Connect, Mack's integrated telematics solution, is now available and standard in all Mack-powered vehicles, including the Mack LR, Mack's newest refuse model. Mack made the announcement at the Canadian Waste and Recycling Expo, held in Toronto, Ontario, November 9-10, 2016.
Mack expanded the offering of GuardDog Connect to Mack LR low-entry cabover refuse models equipped with an MP® engine after receiving ongoing positive feedback from customers.
"Uptime support is as important for our refuse customers as our highway customers," said Curtis Dorwart, Mack refuse product marketing manager. "GuardDog Connect simplifies the diagnostic and service process and combines purposeful telematics technology with Mack experts who can help keep the customer on the job."
GuardDog Connect is Mack's proactive diagnostic and repair planning system. It monitors fault codes that could potentially shut down a truck or lead to an unplanned visit to the dealer and is an integral part of Mack's ongoing commitment to Uptime.
GuardDog Connect, through Mack OneCall™ agents, Mack's 24/7 service support team, enables the quick diagnosis of issues, proactive repair scheduling and parts confirmation, all while the truck remains on the job.
Mack OneCall agents are able to manage all of this through Mack ASIST, a cloud-based service relationship management tool that keeps fleet customers, dealers and service providers and Mack field staff connected during service and repair events.
"Uptime is a must-have for all of our customers, and refuse customers are no exception," Mr. Dorwart said. "Offering GuardDog Connect in the Mack LR enables us to provide the same high level of service and support to all Mack-powered vehicles in our lineup, addressing the needs of all customers, in all applications."
Through GuardDog Connect, LR customers also will have the same access to Mack's suite of fleet management services as other customers, including Telogis and Omnitracs. Telogis is a leading provider of cloud-based intelligence software, and Omnitracs uses GuardDog Connect telematics hardware to capture and relay information such as relative road speed and idling duration and cost.
Mack first introduced its LR model at WasteExpo 2015. Built specifically to meet the challenges of refuse customers who require enhanced maneuverability, increased driver comfort and improved visibility, the Mack LR model is available in 3-axle 6x4 configurations and can be powered by diesel or natural gas.
The 11 l Mack MP®7 diesel engine is standard in the LR model, delivering 325 to 355 hp and 1,200 to 1,280 lb ft of torque. The Cummins Westport ISL G natural gas engine is optional. The LR model is equipped with an Allison RDS 5-speed or 6-speed automatic transmission.
Mack announced earlier this year that GuardDog Connect was standard on all TerraPro™ cabover models, which can be configured for many applications including refuse, concrete pump, dump or mixer. Mack had previously made GuardDog Connect standard on TerraPro concrete pump chassis in 2015 and was the first OEM in the industry to offer proactive support service for pump applications.
Source: Mack Trucks, Inc.