New SBM MINIMIX® is Extremely Compact and Powerful
With the new concrete mixing plant MINIMIX® SBM skilfully continues its road to success with Doubrava know-how. Premium quality and optimum profitability of the new plant are setting new standards in the compact class.
With MINIMIX® SBM succeeded to build an extra-productive plant compared to other plants in this field due to an output capacity of 50 m3/h hardened concrete. This plant works successfully even if very small quantities of concrete are produced.
The outstanding feature of MINIMIX® is that it needs extremely little space. It can be set up directly on the site and delivers the concrete to the construction crane, the concrete pump or the truck mixer without requiring any intermediate steps thus optimizing the working processes on site to the maximum. This results in considerably reduced truck traffic and just-in-time concrete production. Another advantage lies in the fact that the plant offers 12% more storage volume for aggregates and 50% more storage volume for cement, making the new MINIMIX® a very profitable and environmentally sound plant.
MINIMIX® means considerably lower freight costs due to ready-for-operation modules and accessories optimized for transport. The very short assembly time of 3 hours on site ensures time- and cost-saving handling. MINIMIX® can be installed on the construction site with only one crane. Remote control allows unmanned operation.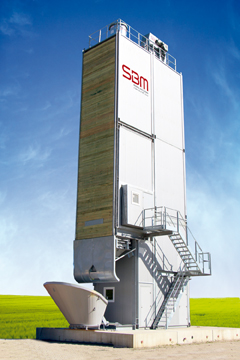 With MINIMIX®, SBM has developed a sophisticated concrete mixing plant with a galvanised steel construction. Maximum transport flexibility is assured due to modules that can be separated lengthwise and a transport width up to only 3.5 m. Relocation costs can be reduced by up to 50%. All those features and easy maintenance result in a very low investment risk for MINIMIX®.
"Due to new construction technologies we have managed to win many new construction sites during the last 7 years", says Hanspeter Märki, Barizzi AG managing director.
The construction professional has been convinced by the high quality and the profitability of MINIMIX®. The machine is standing directly in the construction field in Zurich, Switzerland, and delivers the concrete to the construction crane and the concrete pump – an essential advantage for a smooth construction workflow – as underlined by Mr. Märki.
Austrian manufacturer SBM Mineral Processing GmbH is a full-package supplier for mobile and stationary concrete mixing plants for ready-mixed and prefab concrete as well as mineral processing and conveying plants for the raw material and recycling industries. The enterprise has completed its scope of supply in the high-tech field concrete technology due to the take-over of the Doubrava concrete know-how in 2013. On the basis of many decades of expertise SBM Mineral Processing supplies first-class mineral processing and concrete mixing plants convincing both new and regular clients.
Source: SBM Mineral Processing GmbH