New Schwing S 38 SX Has Unique 5-Section Boom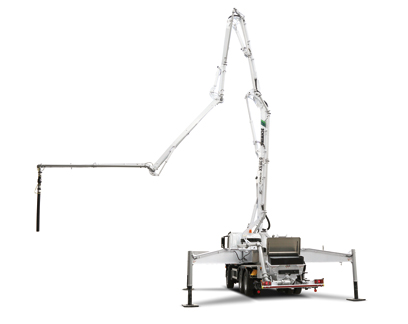 The new S 38 SX from Schwing combines a tight 6.96 m front outrigger spread with a lightweight design and a 5-section boom with more articulation than any other boom style. The new model is available in a 3-axle configuration with cab-over truck or as a 4-axle version with conventional truck to meet U.S. federal bridge laws.
"This is a concrete pump that defines versatility for concrete contractors and pumpers," states Tom O'Malley, senior vice president of sales and marketing for the manufacturer. "The new boom design hyper extends at every section to exceed the capabilities of Roll and Fold and Z Booms."
Key features of this one-of-a-kind Roll and Fold boom are that all of the articulation is on the working side of the boom for faster deployment and it has the ability to snake the end hose deep into decks. The boom provides 32.61 m of horizontal and 37.28 m of vertical reach.
Front outriggers are the exclusive Super X style that telescope out and around jobsite obstructions. For tight set ups, the outriggers can be deployed on one-side only with the standard EASy system that narrows the footprint and provides up to 180° of boom rotation on the pour side of the pump. The system is integrated into Schwing's VECTOR Controls that monitor and ensure the safety of the pump and its operator. The Vector system also provides proportional radio remote control of the boom function and communicates with the operator to stay fully informed of the pump's status even when a long distance from the pump.
Concrete pumping is provided by the proven Schwing open loop, twin-cylinder hydraulic pump that is offered in 2 sizes on the S 38 SX with output to 162.8 m3/h. Both pumpkits utilize the exclusive Rock Valve capable of pumping the harshest mixes while cleaning up with less water than other brands. The Schwing design with long stroke and large diameter pumping cylinders reduces wear by achieving pumping volume with fewer strokes per minute.
"This is the high utilization pump that will be requested daily because of this unique boom, " explains Tom O'Malley. "It has the ability to place concrete where other booms cannot while providing fast set up, maneuverability on-site and proven Schwing reliability."
Source: Schwing America Inc.