Aquajet Introduces Powerful Aqua Cutter 710V
for Heavy-Duty Concrete Removal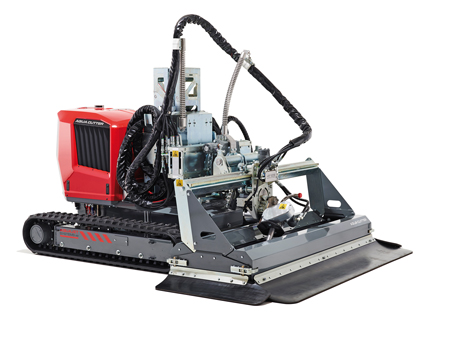 Aquajet Systems AB recently introduced its farthest-reaching unit, the Aqua Cutter 710V hydrodemolition robot. It is the largest of its kind and offers exceptional horizontal, vertical and overhead reach.
The 710V comes equipped with Aquajet's hallmark ceramic nozzles that last as much as 79% longer than standard steel versions. Its design makes it suitable for a wide variety of concrete removal tasks, such as renovation and bridge and road repair.
"We designed the Aqua Cutter 710V to give customers the ability to accomplish more work, even in hard to reach areas," said Roger Simonsson, Aquajet Systems managing director. "The robot's extended reach allows contractors to get at and remove concrete in areas other robots simply cannot."
The 2,300 kg Aqua Cutter 710V uses 1,000 to 2,500 bar (14,500 to 40,000 psi) water jets to remove as much as 1 m3/h of concrete. Contractors adjust the robot's stroke to control the depth of cuts and vary the pressure of the water jet depending on whether they are removing loose, deteriorated concrete or lowering the sound concrete to a predetermined depth. A valuable feature of hydrodemolition is that rebar is cleaned and descaled during the process, whereas alternative methods, such as pneumatic tools or milling machines, may damage the rebar or produce microfracturing in the remaining concrete.
Operators can control the 710V from a safe distance using the unit's radio remote control, either wirelessly or with a hard wire. The remote communicates with the robot's wheeled power control module.
Contractors use Aquajet's unique cutting head, extended reach and its multi-axis 3D positioning system to efficiently operate on all horizontal, vertical and overhead areas that would be difficult to get at with other equipment. This includes straight up and down work, such as renovating walls, shafts and furnaces. In addition, the 710V easily removes concrete in corners that would be difficult to access with hand tools. Aquajet constructs the 710V's steel mast in sections — an innovative design that gives the operator freedom to raise the front power head as high as 7 m – 3 m higher than the Aqua Cutter 410V – without additional support.
The 710V features a powerful diesel engine. Contractors can add an Aquajet Hybrid Kit, which easily attaches to a diesel-powered Aqua Cutter robot for electric operation in applications where diesel engines are not allowed, such as parking garages, inside buildings or in other urban environments. The kit uses an intelligent system to automatically disengage the onboard diesel engine.
Aqua Cutter robots feature unique ceramic nozzles specifically designed for demanding hydrodemolition applications. The highly efficient nozzles last 300-350 hours, depending on the water quality. Standard steel nozzles on competitive equipment typically have a lifetime of 20-40 hours.
All Aqua Cutter robots feature Aquajet Systems' patented Equal Distance System. EDS keeps a preset distance from the nozzle to the concrete surface, regardless of the angle of the water jet, allowing for maximum efficiency and productivity. Systems without EDS lose as much as 20% of the power before the water hits the concrete, greatly reducing productivity and increasing waste.
The 710V robot fits into Aquajet Systems' 7 m Power Packs. The large metal containers include a high pressure Hammelmann pump, large capacity diesel engine and control system, with a convenient storage area for the robot.
Source: Aquajet Systems AB