Nominations
---

Rémi Comeau, directeur des pièces et service chez Top Lift Entreprises, est heureux d'annoncer la nomination de Gabriel Boutin au poste de mécanicien à la succursale de Saint-Laurent, au Québec.
Monsieur Boutin compte plus de 15 ans d'expérience dans le secteur de la machinerie lourde acquise auprès d'entreprises telles que Équipement G. Comeau et Vermeer Canada.
Il sera un élément important au sein de l'équipe toujours grandissante. On lui souhaite un grand succès dans l'accomplissement de ses nouvelles fonctions.
Source: Top Lift Entreprises
---
Camions Excellence Peterbilt est fière d'annoncer la nomination d'Alexandre Ruest, à titre de représentant des ventes de camions neufs. Parmi ses fonctions, il sera en charge du développement des ventes de camions neufs dans l'est de Montréal.
Avec 7 ans d'expérience dans la vente et le service à la clientèle dont 3 en tant que chef de département dans une grande compagnie et 1 an à son actif dans la vente de camions neufs, Alexandre Ruest saura relever le défi de desservir la clientèle de l'est de Montréal.
Ses compétences lui permettront d'écouter, d'évaluer et de comprendre les besoins de ses clients afin de leur proposer des solutions constructives répondant aux besoins de leur entreprise.
Source: Camions Excellence Peterbilt
---
Jean-Yves Voghel, président de J.Y. Voghel inc. est heureux d'annoncer la nomination de Dany Michaud au poste de directeur général qui devient également actionnaire de l'entreprise.
Jusqu'à tout récemment président et directeur général de la Société québécoise de récupération et de recyclage (RECYC-QUÉBEC), monsieur Michaud se joindra l'équipe Voghel le 8 janvier 2018.
Diplômé de HEC Montréal et détenteur d'un MBA de l'Université du Québec à Montréal, Dany Michaud s'est bâti une solide réputation en confirmant son expertise comme gestionnaire des opérations et de production dans le secteur agroalimentaire.
Source: J.Y. Voghel inc.
Appointments
---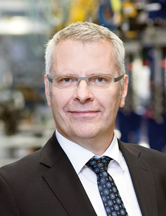 Motorenfabrik Hatz introduces its new CEO Bernd Krüper. The business administration graduate takes over the position from Michael Schweigert who fundamentally realigned the company during the recent years, successfully repositioned it in the market and opened up new markets with the promising H-series engines.
Bernd Krüper comes from MTU Friedrichshafen and Rolls-Royce Power Systems. He is very well noted for his many years of market experience and comprehensive expertise for propulsion technology in the off-highway and automotive segments. As MTU vice president he was heading the construction & agriculture business which is also very important for Hatz.
Furthermore, Mr. Krüper's duties at Rolls-Royce Power Systems and MTU also included the heading of marketing and product management after which he very successfully was in charge of worldwide operations as vice president Industrial Business and president Greater China.
Source: Motorenfabrik Hatz GmbH & Co. KG
---
Martin Weissburg, currently president of Volvo Construction Equipment, will become president of Mack Trucks effective June 1, 2018, in which capacity he will continue to be a member of the Executive Board for the Volvo Group.
Martin Weissburg was born in 1962, and has served as president of Volvo Construction Equipment since 2014. He joined the Volvo Group in 2005 as president of Volvo Financial Services Americas, and in 2010 became global president of Volvo Financial Services. He will be headquartered in Greensboro, North Carolina.
Mr. Weissburg will succeed Dennis Slagle, who has led the company since 2008. Effective June 1, 2018, Dennis Slagle will remain with the Volvo Group as a special projects leader reporting to Martin Lundstedt, president and CEO.
"Thanks to Denny Slagle's leadership, the Volvo Group's North American truck business has substantially improved its profitability and competitiveness, and is strongly positioned for the future," comments Martin Lundstedt. "In Marty Weissburg, Mack Trucks will have another proven leader who is passionate about realizing the full potential of this great truck brand."
Source: Volvo Group
---
VMAC recently announced changes to the organization of its senior management team, appointing former president Jim Hogan to CEO, and Tod Gilbert, former executive vice president to president.
"These changes are an important next step in the company's exciting future as VMAC continues to differentiate itself as the innovative leader in mobile compressed air," says David Elgie, VMAC's executive chairman. "Mr. Hogan will continue to oversee key strategic matters, and retain his board of directors responsibilities while Mr. Gilbert will take on responsibility for the company's day-to-day business activities."
VMAC was founded in 1986 by Jim Hogan and Tony Menard. Over the years Mr. Hogan has been a leader of innovation at VMAC, encouraging research and development, and improvements to current product lines, leading to the company's success. With this change in position, he will again focus on developing innovative technology, R&D initiatives, and process improvement with the support of VMAC's engineering and design team.
Source: VMAC Global Technology Inc.
---
Terex Cranes announces Bill Cox as the new sales director for Terex Cranes North America. In his role, he will work with Terex Cranes' senior management to set and drive equipment sales strategy throughout the U.S. and Canada, lead the Terex Cranes internal and field sales teams, and interact with Terex Cranes distributors and customers. He replaces Mark Phillippi, who will retire at the end of the year.
Bill Cox began his construction sales management career in 1993 as district sales manager for Stone Construction Equipment, Inc., working with customers and distributors throughout a five-state territory. He worked for Terex briefly in the early 2000s, managing sales and distributor development for Genie, and the Terex Light Construction division. Most recently, Mr. Cox served as a crane equipment sales and distributor development representative for Tadano Mantis Corporation.
After 16 years with Terex, Mark Phillippi will retire from Terex Cranes at the end of December. His career with Terex began in August of 2001 as the general manager of Terex Asset Service. Making the transition to Terex Cranes, he started as vice president of Crane Financial Sales and then managed field sales for the central region. He retires as the director of sales for the south, west and Mexico territories, which he held since 2009.
Reflecting on his career, Mark Phillippi comments, "Working with a great team and wonderful customers, my time in the cranes industry and with Terex has been much more fun than work. I enjoyed working in this industry and will cherish the friendships made over the years, both at Terex and in the field with our distributor representatives and customers."
Source: Terex Corporation