Epiroc Expands Hydraulic Attachment Tools Portfolio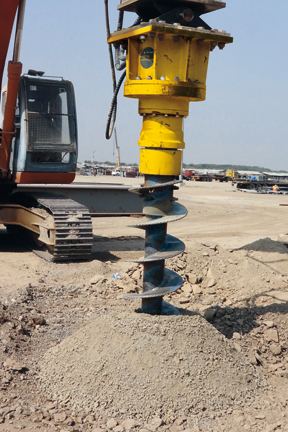 Epiroc has increased the versatility of its hydraulic attachment tools portfolio with 3 new ranges: ERC transverse drum cutters with integrated hydraulic rotation, ER-L axial drum cutters, and ADU auger drive units based on Erkat drum cutter technology. With models suitable for carriers in most weight classes, these attachments deliver high reliability and productivity for a wide range of excavation and demolition tasks.
The ER range of transverse drum cutters replaces Epiroc's well-known DC drum cutter range. Now covering carriers up to 125 t, the range features more models, options and a larger variety of cutting heads.
ER drum cutters are an efficient choice for rock or concrete wall and surface profiling, trenching, soft rock and frozen soil excavation, and demolition. They can also be used up to 30 m underwater without additional installation or modification.
While the ER models have a mechanical 360° rotatable bracket with central fixing bolt for positioning of the drum cutter, the new ERC models feature integrated hydraulic rotation which allows even higher accuracy and productivity in challenging applications.
Common to both ER and ERC drum cutters are an adaptable high torque gear motor, which gives high efficiency with long motor lifetime, and a high load resistant output shaft bearing system with lubrication-free slide ring seal system. Robust spur gears allow optimum energy transmission and reliability and the rugged housings are enhanced by HARDOX wear protection for operation in the toughest working environments.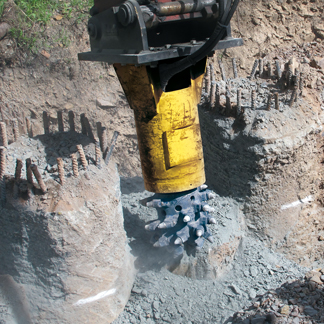 A wide range of cutting heads for various applications is available for ER and ERC models. The QuickSnap retaining system enables fast, simple pick changing, and pick sleeves are replaceable.
The new ER-L axial or longitudinal drum cutters are designed for narrow trenching, pile head removal and gutter cleaning. They are equipped with an adaptable high torque radial piston motor and a lubrication-free bearing system, all protected by a robust housing. As with the other drum cutter models, a large variety of cutting heads is available for various applications and on the ER-L models the cutter head can be replaced by an auger for soft rock drilling.
Epiroc's compact new auger drive units are suitable for challenging soil and soft rock drilling applications. The attachments are equipped with a high torque radial piston motor and a lubrication-free bearing system. A variety of augers is available for different applications and quick auger exchange allows maximum on-site flexibility.
The Epiroc range of hydraulic drum cutter attachment tools was originally designed by Erkat Spezialmaschinen & Service GmbH, which was acquired by Atlas Copco in 2017, and the attachments thus incorporate Erkat technology. They are now easily recognizable as Epiroc products due to the distinctive grey label on the equipment.