KOHLER New 5400 Series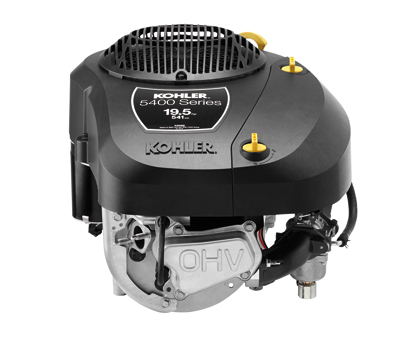 The KOHLER 5400 Series was showcased at the 23rd edition of GaLaBau – the leading international trade fair for urban green and open spaces – held in Hanover, Germany, last September. Designed to bring easy starting and quiet, smooth operation to lawn tractor applications, the new single-cylinder engine line includes models between 17 and 19.5 hp.
Key features encompass a new Triple-Balance System™, which was specially designed to significantly reduce vibration, as well as Kohler's Smart-Choke Technology™, which allows users to Just Turn-the-Key and Go™ without having to prime or choke the engine.
In addition to Kohler's new Triple-Balance System and Smart-Choke Technology, the 5400 Series incorporates the company's Consistent-Cut Technology™, which helps to maintain engine speed in tough conditions for a cleaner turf cut. An inverted oil filter allows for dripless oil changes, while ergonomic quarter-turn knobs provide easy access to the air filter for quick, tool-free replacement. Each model within the new 5400 Series is also backed by Kohler's comprehensive 3-year warranty.
"The 5400 Series replaces the KOHLER Courage® single-cylinder engine line – which is being retired – and represents our next-generation of technology in this engine class," said Brett Wegner, product manager for Kohler Engines. "We believe this line will be an appealing new option for today's technology-driven lawn tractor users. But, it also represents an opportunity for outdoor power equipment dealers who have been seeking a new engine in this horsepower range designed from the ground up around the needs of their customers."
Source: Kohler Engines