Most Capable, Most Advanced Silverado Heavy Duty Ever
to Debut in February 2019
When the 2020 Silverado HD debuts in February 2019 it will be the most capable and most advanced Silverado HD ever.
"We know the needs and priorities of heavy-duty customers are different than those of either light-duty or medium-duty customers," said Jaclyn McQuaid, chief engineer, Silverado HD. "As such, we built a heavy-duty truck tailor-made for them that has more differentiation than ever before from light-duty models, offers advanced towing technologies to improve towing confidence and includes new features such as the integrated Bedstep, which makes it easier to access the bed while pulling a fifth-wheel trailer."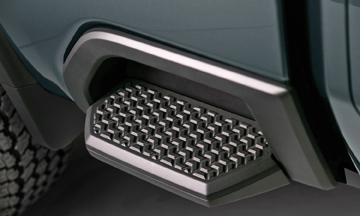 Built at the Flint Assembly plant in Flint, Michigan, the new Silverado HD's design has a bold, sculpted form that follows its enhanced heavy-duty function, differentiating it from the light-duty Silverado. In fact, the 2020 Silverado HD exterior shares only the roof with its Silverado 1500 stablemate – every other piece of sheet metal is exclusive to Silverado HD.
"We set out to make a statement with the 2020 Silverado HD and wanted to visually capture the power and capability of the truck," said Brian Izard, lead exterior designer for Silverado HD. "The result is a truck that looks like a piece of heavy machinery with modern, chiseled finishes and customer-focused details."
The interior benefits from similar architectural changes made to the all-new Silverado 1500, including an additional 76 mm of legroom on crew cab models and a taller, more comfortable seating position.
Under the 2020 Silverado HD's hood is a choice of 2 new powertrains: an all-new gasoline engine with direct injection mated to a 6-speed transmission, or the Duramax Turbo-Diesel V-8, which delivers 1,234 Nm (910 lbf ft) of torque through an all-new Allison 10-speed transmission.
The 2020 Silverado HD also will offer all-new customer-focused trailering technology, significant increases in towing and payload capabilities and a host of technologies and features designed specifically for heavy-duty truck customers.
Chevrolet Canada has proven success with the industry's first 3-truck strategy and that momentum is expected to continue with the launches of the new Colorado ZR2 Bison, the all-new Silverado 1500 and now the all-new Silverado HD models.
Source: Chevrolet Canada