20 Years of Erkat – 3 Years Under Epiroc, a Success Story!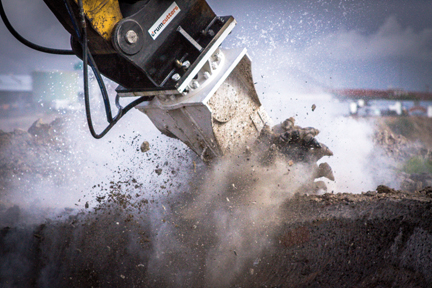 Erkat is celebrating its 20-year anniversary. Founded as a 2-man operation, the brand is now respected all over the world. Since January 2017, Erkat has been part of the Epiroc portfolio and is a real win for the company with its allrounder drum cutter units. The future looks bright – with constant innovations for even harder tasks, even more specialist applications and even more satisfied customers.
Epiroc – a leading specialist worldwide for sustainable production solutions – was able to expand its Construction Tools division in January 2017 with the incorporation of the company Erkat. A successful brand, whose know-how is still based at its Hämbach site, in Germany, and with a product range including high-quality transverse and longitudinal drum cutters for demolition, trenching, tunnelling and rock excavation, that make the perfect addition to the previous product range of Epiroc.
The takeover has also had positive impacts for Erkat. There is now increased awareness for the innovative products and new customer groups have been added. There are also ideal combination options, for example carrying out the main removal with an Epiroc breaker, followed by polishing with the Erkat cutter unit during tunneling work.
The unbeatable versatility of the ER cutter unit series is apparent at all times: For excavator classes from 0,6 to 125 t, Erkat offers a wide selection of different cutter unit sizes and different cutting heads are also available for the relevant base unit depending on the usage area (rock milling head, profiling head, cutting wheel, mixing head, wood milling head, brush head). Robust design, high resilience, low maintenance, easy handling, e.g. with the QuickSnap lock, and above all impressive efficiency are a matter of course.
The ER series is equally suited for trenching and tunnelling work, special civil engineering, demolition work, for milling ditches and for mixing soil formations. But it can also be used in particularly sensitive areas, as extremely low-vibration and low-noise work is possible. The cutter units can even be used in water depths of up to 30 m with no modifications.
Erkat thus guarantees ideal working conditions at all times in even the most difficult of environments. The advantages are also apparent at the building site at Berlin central station, where the cutter units ER 1500 L and ER 2000 X are currently demonstrating their flexibility during work in difficult to access small "pockets". They are creating space for the hydraulic Epiroc breaker, which is the only way for the breaker to find the right point for breaking the concrete ground – an ideal division of work. The transverse drum cutters are also delivering an impressive performance during work high up on the bunker ceiling during the selective reverse construction of the high-rise bunker in Hamburg Eimsbüttel. The focus here is on low-vibration work, efficient demolition performance and quick tool replacement as quality features.
In future, the focus will be on constant further developments for the increasing requirements of markets, companies and people. Epiroc aims to expand the leading position of the Erkat products even further, to minimize the fine dust pollution at construction sites with more efficient water spraying and to significantly increase the product range. Reinforced cutter units for demolition and tunnel construction, specially developed rotator systems, cutting wheels for mounting on existing transverse drum cutters, brush heads with and without dry aspiration and much more are already available. The focus is mainly on sustainable work areas such as the renovation market, explosive-free reverse construction in inner city areas or the removal of contaminated surfaces. Whatever the future holds, innovation will still take place at the Hämbach site.
Source: Epiroc