The World's First Cordless Breaker
Hilti Inc. expands its cordless tool offering with the addition of the world's first cordless breaker, the TE 500-A36. Specifically engineered for the challenges associated with breaking concrete and masonry, this new tool gives construction professionals the power of a corded breaker with the mobility and productivity of a cordless solution. Hilti continues to build upon its best-in-class 36 V cordless platform leadership with this new breaker on the heels of introducing the world's first cordless chipper, the TE 300-A36, last year in Las Vegas at the World of Concrete trade show.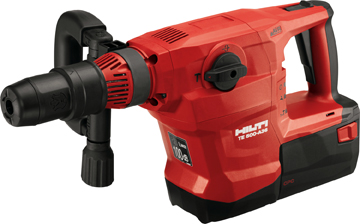 Powered by the strongest and highest capacity (36 V 9.0 Ah lithium-ion) battery in its class and a high efficiency brushless motor, the cordless breaker delivers unmatched power, performance, and reliability. The tool includes Hilti's exclusive Active Vibration Reduction (AVR) technology, which reduces the tool's triaxial vibration over 30% compared to the competition and helps keep contractors productive. Couple it with the VC 75-A22 cordless backpack vacuum system for an OSHA compliant virtually dustless solution that allows users to fully cut the cord.
Dedicated to helping customers improve productivity, Hilti offers innovative cordless tools for professionals including the best warranty and services in the industry. The TE 500-A36 is backed by Hilti's industry best Tool Warranty – 20 years of repair or replacement of defective parts; 2 years no cost repair including wear and tear; and a guaranteed 1-day turn-around on repairs – and is fully available for those customers experiencing the unprecedented flexibility and service of Hilti Tool Fleet Management.*
*Tool warranty. Some limitations apply. Contact Hilti for details.
Source: Hilti Inc.