IKO Introduces Acrylic, Adhesive-Backed Vapor Barrier Membrane
IKO recently introduced 2 new products to its line of AquaBarrier™ air and vapor barrier solutions. IKO AcrylicStick SA and IKO AcrylicStick SA Tapes are acrylic, adhesive-backed vapor barrier membranes that provide exceptional adhesion to most surfaces.
The acrylic adhesive used in IKO AcrylicStick SA and IKO AcrylicStick SA Tapes is pressure-sensitive, allowing for high-quality adhesion to substrates, including gypsum, concrete and plywood, without the use of primers. This saves up to 30% in application time, leading to labor cost savings. IKO AcrylicStick SA Tapes are available in 4 different widths.
IKO AcrylicStick SA is a primerless, self-adhesive, non-permeable air and vapor barrier that provides extra protection and durability to keep outside elements out and inside elements in, as well as ensure wall assemblies remain dry and airtight. Completing the line are the IKO AcrylicStick SA Tapes, which use extra durability and versatility to prevent air and vapor leaks in specialized areas, such as windows, doors and skylights. Used alongside the full AquaBarrier product line, these IKO products provide superior air and vapor protection for a wide variety of commercial building needs.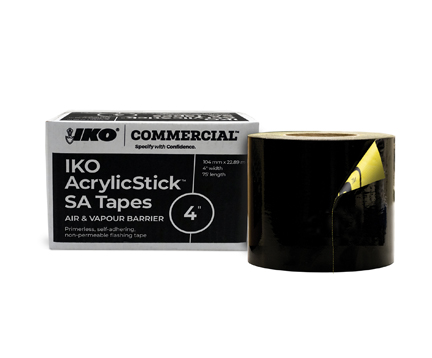 IKO AcrylicStick SA and IKO AcrylicStick SA Tapes provide an effective barrier to moisture, vapor transmission and air leakage when installed according to IKO specifications, thereby protecting the integrity of the entire building. The acrylic formulation used in the products meets low volatile organic compound standards and can be used effectively in cold weather temperature applications. The membrane can be used for a variety of wall assembly applications, such as masonry cavity walls and metal cladding systems.
IKO produces a suite of asphalt low slope roofing systems, including built-up roofing, cold applied, heat welded, self-adhered and more. In addition, IKO offers building envelope, bridge deck and waterproofing membrane systems and accessories, along with wall insulation and air/vapor barrier systems.
Source: IKO