Bauer's Low-Noise Equipment for
Specialist Foundation Engineering Sites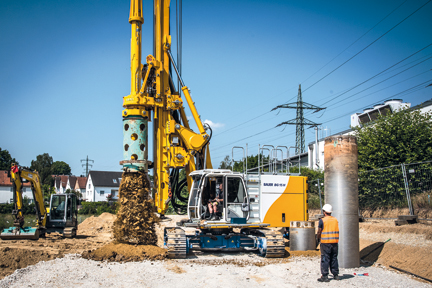 Whether it is a new bypass to reduce traffic in residential areas, a building complex with space for individual living and working areas or an underground parking garage to compensate for limited parking availability on the ground level, construction is essential in many ways.
Owners want project sites to be completed as quickly and efficiently as possible. But residents and neighbors are not thrilled about the noise generated by construction work. And, first and foremost, noise is an issue that affects the people who work with and around the equipment. Ultimately, the ear is our most sensitive sensory organ – noise control is therefore a matter of health protection and thus a key factor that BAUER Maschinen GmbH works hard to improve.
From drilling rigs to cutters, in recent years Bauer has set new standards when it comes to noise reduction at specialist foundation engineering sites.
"Reducing noise is an extremely important topic in the new development and ongoing development of our equipment," said Christian Heinecker, head of the Drilling Equipment business unit at BAUER Maschinen GmbH.
Construction work involves a variety of different noise sources, primarily from equipment, in particular the motor and various attachments. Thanks to its Energy Efficiency Package, EEP for short, Bauer equipment is now significantly quieter than the predecessor models.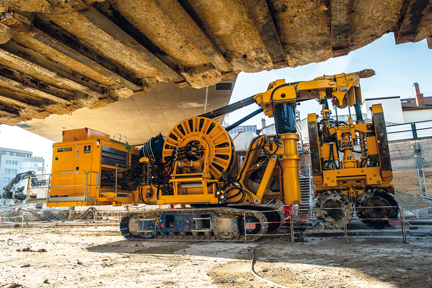 For example, Bauer's smart eco mode relies on dynamic regulation of the engine speed based on the respective action being carried out. This not only reduces cumulative noise emissions but also reduces diesel consumption. This is assisted by an automatic motor stop function that automatically switches off the equipment if it is not used for a certain period of time.
Optional add-on modules, such as inflatable noise control cladding for the power head or the upper carriage, also have a positive effect and can even be retrofitted to existing equipment.
The silent mode reduces the maximum engine speed and slows down the hydraulics resulting in a 2 dB(A) decrease.
The new BG 20 manages to reduce cumulative noise emissions by 9 dB(A) compared with its predecessor model.
Apart from the equipment, the drilling method also influences noise emissions. A differentiation is made between intermittent (e.g. Kelly drilling) and continuous methods (e.g. drilling with an auger using the displacement pile or double-head drilling method). The latter method combines pulling and concreting into a single process, and for this reason produces lower emissions during excavation than a method such as Kelly drilling.
Noise reduction is one of Bauer's top priorities, not just for drilling rigs but also for cutting technology. EEP technology is firmly established as the state of the art for Bauer's cutter carrier equipment, the MC duty-cycle cranes. The cutter itself produces very low levels of noise and cutting is ultimately a low-vibration and thus low-noise method. The principal noise sources, apart from the motor of the support frame, are the cooler and the hydraulic system.
Source: BAUER Maschinen Group