On Site in Shanghai: bauma CHINA Gives Confidence and Hope to the Entire Industry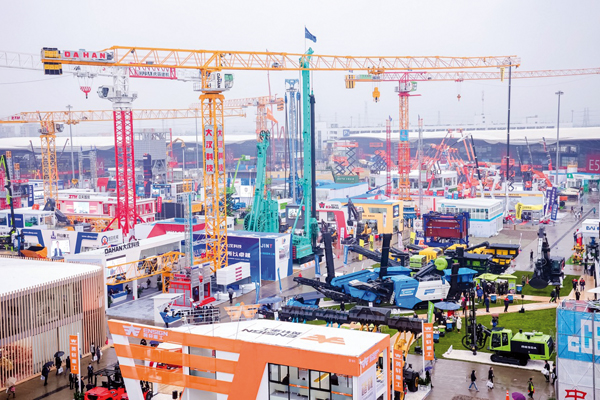 After 4 show days, bauma CHINA 2020 ended on November 27. Despite the COVID-19 crisis and the latest travel restrictions, this year's exhibition attracted 2,867 exhibitors and around 80,000 high-quality trade visitors. Thanks to a sophisticated safety and hygiene concept the 10th International Trade Fair for Construction Machinery, Building Material Machines, Mining Machines and Construction Vehicles could be held at the Shanghai New International Expo Centre (SNIEC). In these difficult times, bauma CHINA 2020 gave the entire industry a reason to enter the coming fiscal year with confidence and hope.
"The year 2020 was marked by special challenges. But the construction machinery industry and its economy continue to grow while the effects of the epidemic are being warded off. There is far-reaching demand for innovative technologies, intelligent and low-emission machines, and vehicles with integrated digital solutions. Hand in hand with our partners we therefore made everything possible and provided the industry with a platform even in times of crisis," said Stefan Rummel, managing director of Messe München GmbH.
Strong Chinese Participation
Chinese key accounts such as XCMG, Sany, Zoomlion, Shangdong Lingong, Zhejiang Dingli even increased their exhibition space this year.
"At bauma CHINA 2020, we have expanded our exhibition space and invited nearly 10,000 customers to the exhibition, demonstrating the importance we have attached to bauma CHINA," pointed out Yu Hongfu, Member of the Board of Sany Group.
In addition to the on-site event, bauma CHINA offered a range of online solutions, especially for international participants who could not travel to China. On the online platform "bauma CHINA Community", everyone could virtually participate in bauma CHINA 2020, from the comfort of their home or office.
The participants could search for exhibitors, exchange company information, get to know products, participate in events digitally and thus gain new market insights. Exhibitors and visitors had the opportunity to communicate via live chats or video conferencing. Thus, participants were able to generate greater reach and build their social networks in the construction equipment industry.
According to the statistics, bauma CHINA Community had over one million online visitors.
"bauma CHINA provided the online platform to build a communication and interaction bridge that breaks the limit of time and space between exhibitors and participants, who are not able to visit the on-site event. The combination of offline and online greatly facilitates communication and helps to achieve cooperation deals," said Rainer Hirsch, member of the executive board of Herrenknecht AG.
The next bauma CHINA will take place at the Shanghai New International Expo Centre from November 22 to 25, 2022.
Source: Messe München