PERI Sells First 3D Construction Printer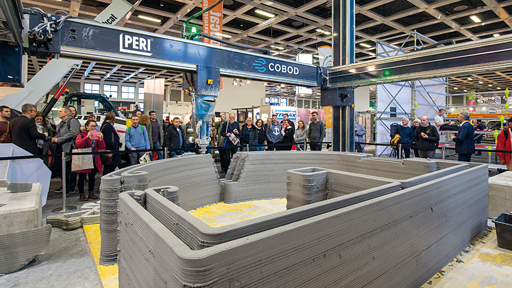 PERI GmbH has been heavily involved in 3D construction printing technology for several years now. Back in 2018, the company invested in Danish company COBOD, a technological leader in 3D construction printers. Together with the specialists from COBOD, PERI has been working hard to refine the technology and open up new markets ever since.
The resolute development work of the past few years is now beginning to bear fruit: Röser GmbH has placed an order with PERI for a 3D construction printer to manufacture prefabricated concrete elements at the company's site in Laupheim, Germany. The BOD2 printer was put into operation on site by PERI engineers working alongside the team from Röser.
Röser GmbH intends to use the printer to produce a wide range of prefabricated concrete elements. At first, the company is planning to produce concrete components with unrestricted scope for design for the open space planning sector, special-purpose shapes for road construction and civil engineering, creative components for building construction and also stylish individual concrete parts. Given the long-standing experience of Röser GmbH in the concrete construction sector, this new 3D construction printer is a long-term, innovative investment for the future that aims to minimize the planning restrictions associated with concrete components, thus enabling the company to become a pioneer in the market.
The BOD2 construction printer supplied by PERI is a "gantry printer", which means that the print head moves about 3 axis on a securely-installed metallic frame. The printer can then be moved along its frame to any position in the structure eliminating the need for frequent relocation and recurrent calibration. Only 2 operators are required to run the printer. The print head and the print results are monitored by a camera.
With a printing speed of 1 m/s, the BOD2 is currently the fastest 3D construction printer available on the market. The BOD2 only takes around 5 minutes to complete one square metre of a double-skin wall.
"At PERI, we are convinced that 3D construction printing offers great potential," says Thomas Imbacher, managing director Innovation & Marketing at PERI Group. "Right now, a number of universities and companies are working on developing and industrializing this technology for various market segments such as, for example, residential construction. The construction printing team at PERI is working non-stop on this topic and we are confident that we will be able to report more success stories before long. Selling the first 3D construction printer to our partner and client Röser GmbH is an important first step for PERI. This is the first step of many."
Source: PERI GmbH