Insta-Mix Becomes Distributor of Kovaco Electric-Powered Machines
for Ontario and Quebec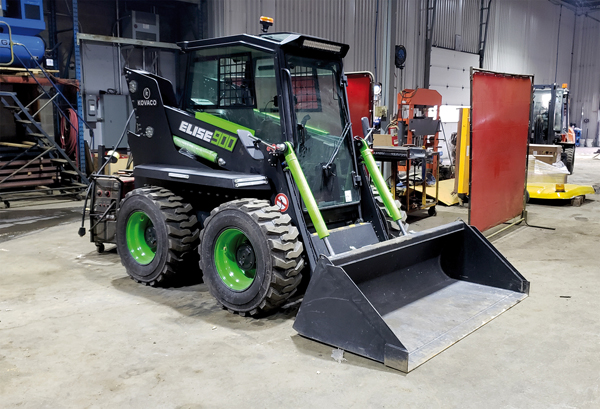 Kovaco Company, a Slovak company which has been in business since 1991, established Kovaco Electric in 2020 to bring revolutionary electrical equipments to the world market.
The main goal of Kovaco Electric is to promote a revolutionary all-electric product line, such as the Elise 900 skid steer loader.
The Elise 900 has an operating weight of 3,300 kg, a maximum boom height of 3.4 m and a rated tipping load of 1,800 kg.
Imagine a skid steer loader with superior performance and capacity but with one difference: its functionality has no impact on the environment!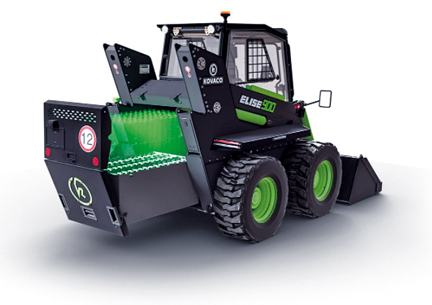 Kovaco Electric has always seen power in simplicity. This is why it has developed a new type of 100% electric skid steer loader, operating for up to 8 hours on a single charge and being zero emission, it offers a wide range of applications thanks to a large number of accessories. By removing all unnecessary functionality, KOVACO Electric products have become more user-friendly, more intuitive to control and maintain, and based on more future technology. A live presentation is an experience like no other. This knowledge can be implemented in your own business. The concept of simplicity has become one of the goals of the company and since then it has been part of its DNA "Living in the present is not enough, let's think about the future".
One of the peculiarities of the Elise 900 skid steer loader is that it can be operated from the cab like a regular machine, by remote control with a console (optional) or using an application (Samsung phone supplied – which is placed in the cabin, where it serves as an on-board computer and battery control). The app can also be downloaded to the user's mobile phone.
The electric-powered Elise 900 skid steer loader is ideal for agriculture, earthworks and landscaping. Insta-Mix has machines available for demonstration in Toronto, Ontario, and Montreal, Quebec.
Source: Insta-Mix