When the Cordless Screwdriver Replaces the Crane
Can you really turn moulds, tools and even particularly large workpieces with a cordless screwdriver? Yes, you can, thanks to the new RUD Tecdos TMB Tool Mover Workbench from RUD.
The latest innovation from the German drive technology specialist is a novel 2-in-1 combination of workbench and turnover device. It not only allows lightweight and medium-heavy tools to be turned efficiently, but it can also be used to service them directly on the spot, with no loss of time. In addition, the RUD Tecdos TMB saves space and protects the infrastructure in the workshop and during operation.
The new RUD Tecdos TMB has a table size of 80 x 80 cm and can accommodate tools and moulds weighing up to 2.5 t. The latest innovation from RUD is perfect for use in the tool and mould-making and the automotive industries.
"So far, users have been faced with a dilemma, especially in this weight class – because most parts are simply too heavy to be handled manually, but a crane is also not an efficient solution for something weighing just 2.5 t. This is no longer necessary because our new Tool Mover Workbench makes it so simple to turn the piece using just a cordless screwdriver. It's great that we were able to come up with an innovative solution for efficient, ergonomic and safe handling, especially for lightweight and medium-weight pieces. This is a real enrichment and rounding off of our portfolio," explained Anne Kühling, product manager for the Conveyor & Drive division of RUD Ketten Rieger & Dietz GmbH u. Co. KG.
"The Tecdos TMB from RUD lets us safely turn injection moulds, even if there is no crane available at the respective site. In particular, the high level of work safety you get when working with this table is absolutely outstanding," added graduate engineer (FH) Ralph Straberger, managing director of E. Straberger + Söhne Werkzeugbau GmbH, based in Kirchheim, Germany.
Following the RUD Tecdos TM turning table and the RUD Tecdos TS tool separator, the new workbench with integrated turning table is now the 3rd innovation from RUD Tecdos mechanical engineering in just under 2 years.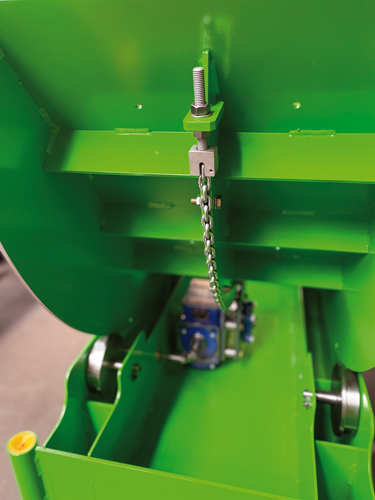 The impetus for the new development came directly from the market, from the Netherlands in fact.
"In the Benelux countries, tools are generally somewhat smaller and lighter. For the ranges up to 2.5 t, however, there was no appropriate handling solution to date, mostly just ropes and cranes were used. But that's dangerous and not good for the employees' backs either," said Mrs. Kühling. To address this, RUD not only configured its tried-and-tested RUD Tecdos TM turning table somewhat smaller – for pieces weighing up to 2.5 t – but also integrated a workbench. As a result, both steps (i.e. turning and then working on the tool) can be carried out in one place and on a single piece of equipment – accelerating and optimizing the whole process. This allows staff to work on the complete mould during maintenance without any problem. The table height, in line with all standard workbenches, also makes working on the moulds particularly comfortable and ergonomic.
The RUD Tecdos TMB can be attached directly to existing workbenches and can thus be perfectly integrated into factory equipment and processes. Optional side tabletop surfaces serve as an extension to the workbench, shelf or assembly surface.
Compact dimensions of approximately 118 x 67 cm (L x W) make the RUD Tecdos TMB particularly space-saving and flexible to use in the factory and workshop. It can be moved using a pallet truck, forklift or crane. And yet another benefit: The RUD Tecdos TMB also protects the entire infrastructure, such as the production hall floor or crane, because tools and machine components no longer have to be dragged across the hall to maintenance points.