Comansa Presents the LCH300 Hydraulic Luffing Jib Crane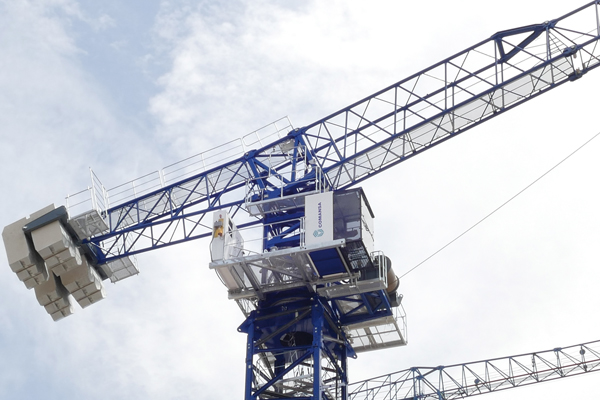 Comansa presented its innovative model at Bauma 2022 held in Munich at the end of October. The Spanish tower crane manufacturer expands its range of luffing jib cranes with the launch of the LCH300, its first hydraulic model, with a maximum load capacity of 16 t and reach of 60 m.
The LCH300/16 t is available in various versions: embedded, supported on bases of 6 or 8 m, or movable. The crane can be assembled with 2.5 x 2.5 m tower sections. Its modular jib has a reach of 25 to 60 m, with configurations every 5 m. It has a minimum working radius of 4 m and a minimum radius of 9 m when out of service.
The luffing moves the jib and counter jib jointly by a hydraulic cylinder at the cathead and jib hinge assembly. The hydraulic pump unit is located on a movable platform in one piece.
The design of this new rotating part - jib, cathead and counter jib – as well as the mechanism, cabin and hydraulic unit platforms, optimizes the transport of this model, which may be supplied by 8 trucks or containers.
This new luffing jib crane from Comansa incorporates the award-winning CUBE Cab (L or XL) with Split type air conditioning. The cabin platform, like the lifting and hydraulic unit platforms, can be transported in a single piece.
Comansa luffing jib tower cranes offer optimal performance where horizontal jib cranes cannot move loads freely due to space limitations. Now, with the incorporation of the LCH300 hydraulic model, the luffing mechanism is optimized to offer even greater performance and an efficient assembly, as well as reduction of the radius when out of service.
Source: Comansa