VMAC Releases UNDERHOOD™ 40 Air Compressor for the Sprinter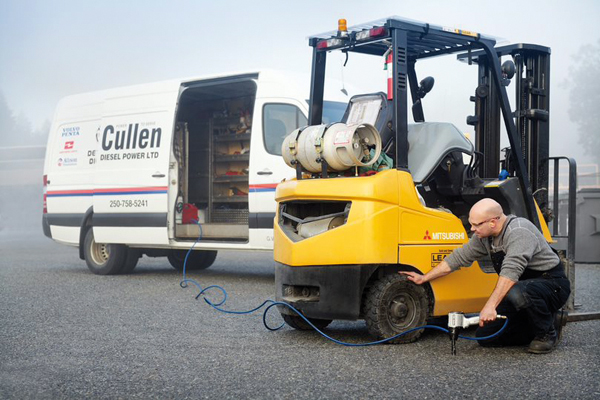 VMAC has released the UNDERHOOD40 – Van Series for 2022 Mercedes-Benz Sprinter vans with 2.1 l turbo diesel engine. This latest UNDERHOOD40 rotary screw air compressor is engineered specifically for 2019-2022 Sprinter vans and produces up to (1,130 l/min of continuous air @ 6.9 bar, (10.3 bar max).
"As customers upgrade their vehicles to the newest model years, VMAC is committed to ensuring we have UNDERHOOD air compressors available for their service trucks and vans," said Barry Fitzgerald, VMAC's vice president of EV Compressor, Engineering and Quality. "The UNDERHOOD40 – Van Series air compressor for Mercedes-Benz Sprinter allows fleet managers to diversify their vehicles and solve common safety issues found with traditional air compressors in vans."
The UNDERHOOD40 – Van Series air compressor also provides fleet managers and operators with plenty of space and weight benefits. This integrated air compressor is mounted in the Sprinter's engine compartment, freeing up to 0.3 m3 in the cargo area. A combined air/oil cooler and air/oil separator tank is the only component installed in the cargo area, taking up just 0.04 m3. The total air compressor system weighs only 38.5 kg, which compares to 130 kg for 22-30 CFM gas-powered air compressor systems.
"UNDERHOOD air compressors have been highly popular in the service truck industry for 25 years due to physical space and weight savings, more productivity and less maintenance," explained Gordon Duval, VMAC's vice president of Sales and Marketing. "In addition, recent supply chain challenges have made UNDERHOOD air compressors even more desirable. There are significant deck-mounted air compressor delays, but the UNDERHOOD product line, including the new UNDERHOOD40 for Mercedes-Benz Sprinter has a standard 10 day lead time, due to VMAC's vertically integrated in-house manufacturing capabilities."
Source: VMAC Global Technology Inc.