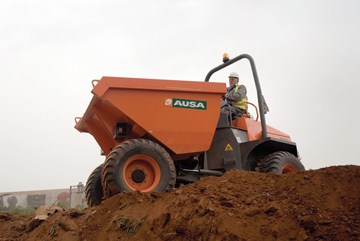 A Giant is Born: The New AUSA D 900AP Dumper
With the appearance of the biggest dumper in AUSA's 50 years history, the Spanish company strengthens its very wide range of dumpers and it positions itself as one of the manufacturers with the largest variety of products in the same range. At this moment in time, AUSA is able to meet the most varied and demanding needs dictated by any market. The product spectrum achieved by AUSA's dumpers covers basic dumpers with a load capacity of 850 kg up to dumpers with a load capacity of 9000 kg.
No effort was spared on this work and a large team of well-known British engineers actively collaborated in the creation of this eagerly awaited machine. There are in fact a number of dumper manufacturers in Great Britain and it is one of the countries with the longest history of dumper use. 60% of the world dumper market is centred on this country and it is for this reason that AUSA's commitment to consolidate the 9 t model as one of its flagships in the coming months cannot wait.
As well as its excellent manoeuvrability over any kind of surface, its ergonomics, operational ease and minimal maintenance, the D 900AP is also characterised by its high levels of innovation and technologically advanced safety. It is a revolutionary vehicle that adapts to the building and earthmoving sectors alike thanks to the excellent relationship between the machine's total measurements and load volume.
The new launch is a decisive step forward for the sector. English specialists who have tried the vehicle agree on the suitability, polyvalency and success of a machine that is ready to become one of the most widely used machines on an international level.