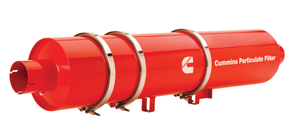 Certification of 2007 Cummins On-Highway Engines
Cummins Inc. announced recently that the U.S. Environmental Protection Agency (EPA) has certified the Cummins Heavy-Duty and MidRange truck engines for 2007. Full production of the new engines began in January.
The 2007 certified Cummins truck engines include the Heavy-Duty ISX and ISM, as well as the MidRange ISL, ISC and ISB. The engines are certified and compliant for 2007, using Cummins proven cooled exhaust gas recirculation (EGR) technology across the entire product line. To meet the more stringent 2007 emissions standards, which reduce particulate matter by 90% and also require a significant reduction in nitrogen oxides (NOx) from 2004 limits, Cummins has added an integrated particulate filter and a crankcase ventilation system to the engines.
The entire line features fully integrated electronic controls, with a single electronic control module (ECM) that controls the engine and aftertreatment. All engines will use the patented sliding-nozzle variable geometry turbocharger, made by Cummins Turbo Technologies, which features an electric actuator for 2007 with faster response and improved precision in adjusting airflow to the engine.
The Cummins Particulate Filter, designed and manufactured by Cummins Emission Solutions, includes a diesel oxidation catalyst and a diesel particulate filter to reduce particulate matter by 90%. The catalyst fully optimizes the regeneration capability of the particulate filter, a critical aspect for maintaining fuel economy comparable to today's engines. The crankcase ventilation system features the Fleetguard® coalescing filter, which captures and filters crankcase emissions, and returns oil directly to the sump. The coalescing filter is a simple and proven solution for crankcase emissions, with no moving parts or additional electric actuation.
Source: Cummins Inc.