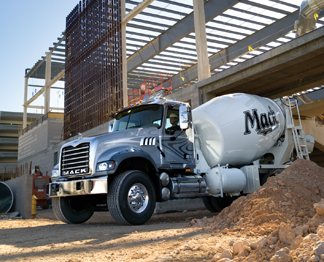 Driving Skills Safety Challenge
At World of Concrete
Once again, Mack Trucks, Inc. was the sponsor of a Driving Skills Safety Challenge during the World of Concrete show. The event this year was held just outside the Las Vegas Convention Center last January.
This year's event featured both individual and team competitions.
Contestants picked one MACK® Granite® model mixer to operate through a closed course set up to simulate an actual job site. Operators had to complete a pre-operation safety check, successfully navigate the skills course, and then secure the truck as if it were the end of a workday. Each individual or team had one attempt. Scoring was based on accuracy and adherence to safety procedures.
First-, second-, and third-place winners in both the individual and team competitions were announced during an awards ceremony held in the Mack booth. In addition to a trophy, prizes consisting of Mack Shop Gift Certificate and a Mack Citizen® watch were awarded to the top three finishers in the individual competition, as well as to each operator on the top three two-person teams:
All contestants received a Mack hat for participating in the event.
"This is our way of acknowledging and thanking a group of drivers whose professionalism and contribution to safety are not traditionally recognized in skills events," said Tom Kelly, Mack vice president of marketing.
Source: Mack Trucks, Inc.