Vibrocompacteurs hydrauliques pour porteurs avec rotation
La gamme des vibrocompacteurs hydrauliques d'Atlas Copco est dorénavant aussi disponible en série avec le système de lubrification continue "PermanentLube" ainsi qu'en option avec un mécanisme de rotation.
Équipé de la lubrification continue PermanentLube, le vibrocompacteur devient un outil sur porteur qui ne nécessite pratiquement pas de maintenance. Le mécanisme de rotation disponible en option pour une rotation illimitée sur 360° facilite le positionnement dans tous les types d'application. Ce mécanisme de rotation contribue à augmenter la productivité tout particulièrement des travaux en tranchées et aux endroits difficilement accessibles. Atlas Copco propose le mécanisme de rotation en option pour tous les compacteurs à partir du HC 308 et comme ensemble de montage ultérieur.
Les six différents types disponibles sont conçus pour des engins porteurs d'un poids de service de 1 à 40 t. Ils sont utilisés pour le compactage de sols et de talus ainsi que pour tirer et enfoncer des poteaux et palplanches.
Source: Atlas Copco
---
Lancement de la nacelle Big Boom à pendulaire télescopique
Haulotte Group, constructeur mondial spécialisé dans l'élévation de personnes et de charge, innove grâce à la nouvelle nacelle télescopique H28 TJ+ (HB86 TJ+) de 28 m.
La nouvelle H28TJ+ (HB86TJ+) facilitera votre travail et vous permettra d'augmenter vos champs d'application avec son déport de 23 m. Le panier large jusqu'à 2,44 m permet de lever rapidement des charges jusqu'à 350 kg et le pendulaire télescopique de 5 m à commandes proportionnelles permet d'atteindre, même à hauteur maximum de travail, les zones les plus inaccessibles.
Source: Haulotte Group
---
PM Group à CONEXPO-CON/AGG 2008
PM North America LLC, la division ventes de PM Group S.p.A. aux États-Unis, exposera son succès de vente sur le marché nord-américain, la 35LC USA, et une toute nouvelle grue de la série 85SP, la 85027SP + J1204.20.
La 35LC USA est une série PM développée spécialement pour le marché nord-américain. Elle est équipée de deux blocs de soupapes de commande séparés qui sont reliés à deux pompes différentes, ce qui procure à la grue une plus grande rapidité et une meilleure productivité. La 35LC USA est utilisée pour le chargement et le déchargement de blocs de béton où la rapidité est primordiale.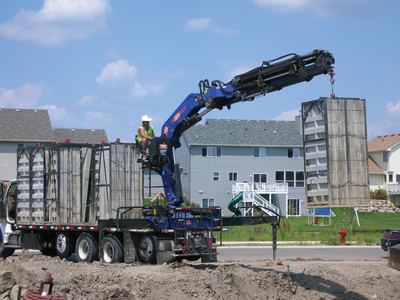 La 85SP est la plus puissante des grues PM. Elle est munie d'un système de giration continue et du système de gestion électronique PM Power Tronic.
La 85027SP+J1204.20 permet d'atteindre une hauteur maximale de 33 m avec un chargement de 910 kg.
Source: PM North America LLC
---
IMT innove avec l'intégration de l'hydraulique aux châssis Dodge and Sterling
Fidèle à sa tradition d'innovateur, Iowa Mold Tooling Co. Inc. (IMT) annonce avoir intégré avec succès les systèmes hydrauliques d'une grue et d'un compresseur au châssis des camions Dodge Ram 3500, 4500 et 5500, ainsi qu'au châssis du Sterling Bullet.
IMT vend les carrosseries de service Dominator DSC20 et Dominator I avec des grues télescopiques électriques sur ces châssis de classe 4 et 5 depuis leur lancement en 2007. IMT a réussi à surmonter les défis techniques posés par les nouveaux châssis Dodge et Sterling afin d'offrir l'option d'une grue et d'un compresseur à entraînement hydraulique. En effet, les grues électriques sont idéales pour les clients qui ont à lever des charges légères et dont les cycles de levage sont intermittents. Par contre, les clients qui ont à lever des charges de plus de 3000 kg ou qui utilisent leur grue plus d'une ou deux fois par jour ont besoin d'une grue hydraulique.
Source: Iowa Mold Tooling Co., Inc.
---
Le RM-100 présenté en grande première!
Rubble Master et Voghel Inc. présenteront en grande première à CONEXPO-CON/AGG 2008 le RM-100, la toute dernière technologie en concassage sur chantier.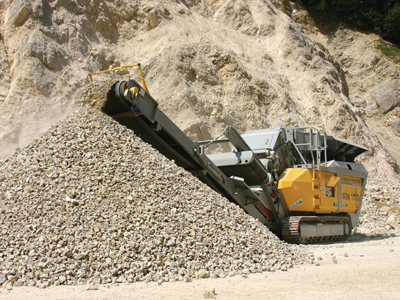 Le RM-100 est mobile, versatile et extrêmement efficace. Il permet aux entrepreneurs de concasser le béton armé, la pierre, l'asphalte et le gravier directement sur le chantier. Le RM-100, la nouvelle solution au recyclage profitable.
Source: J.Y. Voghel Inc., Voghel Enviroquip Inc.
---
Le module de puissance BHP350 permet de maximiser la performance de paillage
Une innovation dans la technologie du paillage, le module de puissance BHP350 procure une puissance de broyage de haut niveau en maintenant la puissance de la tête de broyage à un niveau constant. Il est commandé par le système Fecon Power Management qui dirige toute la puissance disponible vers l'appareil. Le microprocesseur gère le moteur et la performance hydraulique en temps réel. Un panneau de contrôle permet à l'opérateur de surveiller le fonctionnement. La consommation réduite et une meilleure puissance du moteur sont parmi les avantages additionnels offerts par le BHP350 de Fecon.
Le module de puissance BHP350 est doté d'un moteur Cummins de 350 hp qui entraîne deux pompes hydrauliques qui fournissent jusqu'à 530 l/min de débit hydraulique à la tête de broyage.
Source: Fecon, Inc.
---
Les enchères en ligne d'IronPlanet
IronPlanet est l'un des chefs de file dans le domaine des encans de machinerie et de camions sur internet. Elle fournit des rapports d'inspection détaillés sur des centaines d'items et garantit la condition de l'équipement avec son Assurance IronClad - la promesse que les rapports d'inspection sont représentatifs de la condition de l'équipement. En éliminant les coûts de transport et les coûts de préparation à la vente en plus de rejoindre un auditoire global, IronPlanet procure aux vendeurs un canal moins dispendieux et un meilleur prix.
IronPlanet facilite également la vente et l'achat de chaque item sur son site web en fournissant une transaction sécurisée. Une fois un item vendu, l'acheteur doit payer le prix directement à IronPlanet qui ordonne alors au vendeur de livrer l'item. Lorsque l'item est reçu par l'acheteur, et que sa condition est vérifiée, IronPlanet transmet le paiement au vendeur. IronPlanet sert de modérateur en cas de conflit jusqu'à ce qu'une entente juste et équitable soit obtenue.
Source: IronPlanet
---
Toujours du nouveau chez Rayco-Wylie
Rayco-Wylie présentera à Conexpo-CON/AGG 2008 son nouveau système i3500 qui est un dérivé de l'i3000. "L'affichage est identique à l'i3000 avec son interface graphique avec la grue", dit Frank Beardsley, directeur technique de Rayco-Wylie. "Facile à utiliser, il fournit toute l'information de charge nécessaire et offre différentes options avancées telles que l'enregistrement de données et la transmission à distance. Les propriétaires peuvent ajouter également d'autres options comme la hauteur du crochet, la vitesse du câble de levage et le limiteur de portée. Le i3500 est extrêmement flexible, il est le nouveau centre d'information pour grues."
Conçu pour le marché OEM, le i3500 est entièrement CANBus avec des connecteurs rapides pour une installation et calibration facile. Disponible en 9 langues différentes et plusieurs options d'unité de mesure, le système est adapté pour le marché mondial.
Le i3500 est aussi disponible en retrofit et offre des possibilités illimitées afin de s'adapter aux demandes de chaque utilisateur. En particulier le i3500 permet aux propriétaires de grues la possibilité d'intégrer l'information de charge avec le réseau CANbus de la grue (incluant localisation GPS) et la transmettre au coordonnateur de la flotte. L'information est transmise via satellite à une adresse courriel spécifique à la fréquence déterminée par le propriétaire; l'information est aussi disponible à partir du serveur Rayco-Wylie. C'est un outil indispensable pour les coordonnateurs de la flotte car il permettra une meilleure évaluation de l'utilisation des grues et améliorera les cycles d'entretien.
Dans le but de continuellement offrir de nouveaux produits utiles aux clients, Rayco-Wylie maintient l'esprit pionnier qui a fait d'eux des innovateurs dans l'industrie depuis 1934. Le nouvel i3500 complète la ligne existante des produits de sécurité pour les grues parmi laquelle on retrouve les indicateurs de fin de course de crochet câblés et sans fil, les indicateurs de charge, angle et longueur, les systèmes de contrôle de charge et les applications offshore.
Source: Rayco-Wylie Systems
Hydraulic Compactors Available With Rotation Device
The range of Atlas Copco hydraulic compactors is now also available with a standard "PermanentLube" lubrication system as well as an optional rotation device.
The PermanentLube lubrication system turns the compactor into a practically maintenance-free attachment. The optionally available 360° endless rotation device allows the compactor to be positioned with greater ease in all applications. Especially in trenches and other areas which are difficult to access, the rotation decice clearly boosts the productivity. Atlas Copco is offering the rotation device for all compactors from HC 308 onward as an optional feature - also as a retrofitting kit.
The six different models are designed to be attached to carriers with a service weight of 1 to 40 t. They are used to compact soil and slopes and to extract and drive in posts and sheet pilings.
Source: Atlas Copco
---
Launch of the telescpic big boom from haulotte
Haulotte Group, the global manufacturer specializing in equipment that lifts people and material lifting equipment, has used its expertise to respond to customers' needs with the launch of the innovative 28 m Telescopic Big Boom HB86 TJ+ (H28 TJ+)
The new big boom HB86TJ+ (H28 TJ+) makes your work easier and allows you to operate in a wider range of working environments with an outreach of 23 m. The 2,44 m platform can support loads up to 350 kg and the 5 m telescopic jib with proportional controls allows to reach the most inaccessible worksites.
Source: Haulotte Group
---
PM Group at CONEXPO-CON/AGG 2008
PM North America LLC, sales branch of PM Group S.p.A. in the United States of America, is going to show one of its best seller on the North American market, the 35LC USA, and a brand new crane, a model of the 85SP series, the 85027SP + J1204.20.
The 35LC USA is a PM series especially developed for the North American market, in fact it is equipped with two separated hydraulic control valve blocks, which are linked to two different pumps, that allow the crane to move faster and so to be more productive than a crane with a single valve block. The 35LC USA is used for loading and unloading of concrete precast blocks and so its velocity is its best value.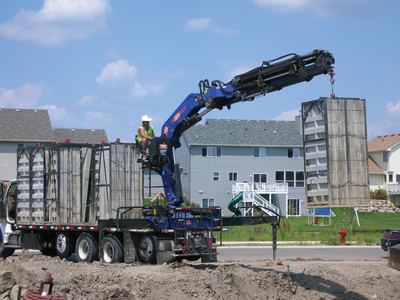 The 85SP is the most powerful crane in PM product range; it is equipped with continuous slewing system and PM Power Tronic electronic management system.
The 85027SP+J1204.20 is able to reach a maximum working height of 33 m loading 910 kg.
Source: PM North America LLC
---
IMT Breaks New Ground with Integration of Hydraulics into Dodge and Sterling Chassis
In keeping with its long tradition of industry innovation, Iowa Mold Tooling Co. Inc. (IMT) announces the successful integration of a hydraulic crane and air compressor into the new Dodge Ram 3500, 4500 and 5500 chassis, as well as the Sterling Bullet chassis.
IMT has been selling Dominator DSC20 and Dominator I service bodies with electric telescopic cranes mounted on these Class 4 and 5 chassis since their introduction in 2007. As an industry leader, IMT overcame the technical challenges posed by the new Dodge and Sterling chassis to offer customers hydraulic crane and air compressor options. Electric cranes are best for customers whose lifting needs are fairly light and whose duty cycles are intermittent. However, customers who need to lift more than 3000 kg or who use the crane more than once or twice a day will need a hydraulic telescopic crane.
Source: Iowa Mold Tooling Co., Inc.
---
RubbleMaster Introduces the RM-100
Rubble Master and Voghel Inc. present their flagship product, the RM100 crusher, to the North American market at CONEXPO-CON/AGG 2008.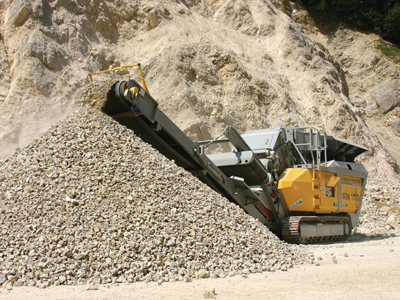 The RM100, the latest addition to the Rubble Master® product line, sets new standards as the best performing compact crusher on the market with its extraordinary capacity for daily production up to 200 t/h.
Source: J.Y. Voghel Inc., Voghel Enviroquip Inc.
---
The BHP350 Power Pack for Maximizing Mulching Performance
A true innovation in mulching technology, the new generation BHP350 Power Pack offers peak grinding power by maintaining virtually constant horse power to the grinding head. It is controlled by Fecon Power Management microcontroller that directs all of the available Power directly to the mulcher. The microcontroller manages engine and hydraulic performance in real time. A control panel inside the excavator's cab allows the operator to monitor operation and see that the mulcher is getting maximum horsepower at all times. Reduced fuel consumption, and improved engine power are additional benefits offered by the Fecon's BHP350.
The BHP350 Power Pack features a 350 hp Cummins Engine powering two high performance hydraulic pumps that will provide 530 l/min of hydraulic flow to the grinding head.
Fecon has also ensured easy accessibility to the engine and components for routine maintenance.
Source: Fecon, Inc.
---
IronPlanet's online auctions
IronPlanet is the leading online auction company for buying and selling used heavy equipment and trucks. They provide detailed inspection reports on hundreds of items and guarantee equipment condition with the IronClad Assurance - their promise that inspection reports are true representations of equipment condition. By eliminating transportation and make-ready costs and drawing a global audience, IronPlanet delivers lower channel costs and better price realizations.
IronPlanet also facilitates the sale and purchase of each item on its Web site to provide a secure transaction. Once a buyer wins an item, the buyer is required to pay IronPlanet directly. IronPlanet then notifies the seller to release the equipment. When the equipment is received by the buyer and its condition verified, IronPlanet releases payment to the seller. IronPlanet moderates any disputes to ensure a fair solution is reached.
Source: IronPlanet
---
Now Even Better at Rayco-Wylie
At CONEXPO-CON/AGG 2008, Rayco-Wylie will introduce its new i3500 which is a derivative of the i3000. "The display is identical to the i3000 with its graphical interface with the machine", says Frank Beardsley, technical director for Rayco-Wylie Systems. "Easy to use, it provides all the crane indications you need and has advanced optional features such as data collection and remote transmission. The system is extremely flexible. Owners can add such options as data logging, hook height, rope speed, and range limiting. The i3500 is the newest complete crane information center."
Designed for OEM's the i3500 is fully CanBus with "plug and play" sensors for a quick installation and can be precalibrated. The calibration requires no extra hand-held device as it is performed using the display keypad. The i3500 accommodates worldwide users with 9 languages to choose from, choice of measure units and international symbol keypad.
The i3500 will also be available in the retrofit market! It has limitless capabilities to please any end-user. The best example is what it can do for crane rental companies - especially for dry leasing. The i3500 can integrate its own crane lifting information with the existing crane CanBus network and transmit this combined data (including GPS location) to the fleet manager. The information is transmitted via satellite to a determined e-mail address at preset times or sent as alerts any time. It is also accessible via the Rayco-Wylie server at any time from almost any country in the world. This is an indispensable tool for any fleet manager as this will permit a better assessment of crane utilization and will improve the maintenance cycles of each crane. Knowing where your cranes are, how much they are lifting and exactly when the leased running time is reached are just the beginning of what the real-time fleet management option can provide.
By constantly striving to introduce new products that the customers demand Wylie Systems is proud to continue the pioneering spirit that has made them innovators in the crane monitoring industry since 1934. The new i3500 complements the existing line of Wylie crane monitoring instrumentation which includes wireless and cabled anti-two-block warning systems, combinations of load, angle, length, radius and two-block indicators, total moment and hoist tension line rated capacity indicators and especially engineered offshore applications.
Source: Rayco-Wylie Systems