Hydrema 912C Dump Truck: the Perfect Fit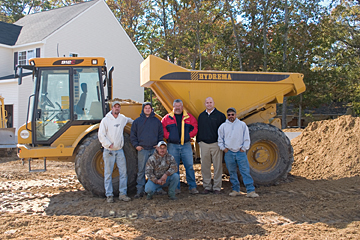 Sunrise Unlimited, a full service landscape and construction company based in New Jersey, recently purchased a Hydrema 912C articulated dump truck to handle their specific landscaping and construction needs at residential developments.
Hydrema's 912C is designed with a Multi-Tip configuration, which allows the dump body to swing 90° left and right to unload material.
Sunrise is currently working on a residential project, which will consist of 88 homes when completed. To date, Sunrise has cleared the 20 ha site, stripped and stockpiled thousands of tons of top soil and completed all sewer and storm pipe work.
Sunrise is now focused on the project's next phase, which is backfilling around the housing unit foundations and starting the initial landscaping by spreading topsoil around the completed homes.
"The 912C is perfect for my specific construction and landscaping projects," states Mike Aspinwall, president of Sunrise Unlimited. "The housing units in this development are very close together. This project requires a piece of equipment that can fit between these houses and that has very low ground pressure. Low ground pressure is important because it reduces the chance of cracking curbing and leaving marks on finished concrete driveways."
The 912C has been also eliminating a lot of physical labor. Sunrise is using the 90° dump body to cover pipe trenches throughout the job.
The 912C is equipped with 5,8 m3 dump capacity and uses a 4,4 l Perkins diesel engine, rated at 123 hp, which gives it excellent power for hauling loads over tough terrain.
The 912C's wide tires enable it to operate in challenging conditions, regardless of whether the terrain is soft, steep or covered by deep snow. The dump truck is also well-suited for use on golf courses, due to its low weight and the geometry of the pivot, which subjects the ground to minimum damage.
The 912C Series Dump Trucks are made of high tensile steel with all-welded construction providing strength and stability on the job. The wide tipping angle and ground clearance of the body guarantee faster unloading times than traditional dumps.
Source: Hydrema Baumaschinen GmbH