Builder RM Power Model Makes Construction Layout & Measurement Faster & Easier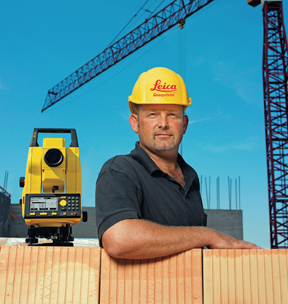 Leica Geosystems' new Builder RM power now adds a fourth member to the Builder family with an advanced multi-mode EDM, a mobile phone style keypad, and new features with the built-in Leica PowerSite Software.
Leica Geosystems' Builder family helps construction experts meet today's challenges for faster layout and site measurement tasks. The new Leica Builder RM power is equipped with the most advanced EDM in the construction market and a mobile phone style keypad for fast data entry. Construction users get the highest degree of measurement accuracy, quality and reliability even under the toughest conditions. Simply aim and shoot to difficult targets such as wall corners, remote steel or concrete structures for fast, accurate layouts and measurements.
Leica Geosystems' easy-to-use keyboard and display gives the Leica Builder RM power unrivalled operational simplicity. Coupled with outstanding performance and accuracy, its unique and straightforward operation accelerates construction site tasks including layout or as-built checks. New features of the Leica PowerSite Software make complex tasks such as layout of curved structures, measuring to hidden points and layout using intersection points or grid points easy. Graphical elements guide the user through all operations.
The Leica Builder is specially designed for construction use. Robust, it withstands wind, weather, dirt and it is easy to transport. The easy-to-use features speed layouts and measurements to save time in the field. The four models Builder T, Builder R, Builder RM and Builder RM power are based on the same Leica PowerSite Software and all models work the same way. Switching or upgrading from one model to the next is extremely easy - users only need to learn the new features.
With close to 200 years of pioneering solutions to measure the world, professionals worldwide trust Leica Geosystems products and services.
Leica Geosystems is best known for its broad array of products that capture accurately, model quickly, analyze easily, and visualize and present spatial information.
Source: Leica Geosystems