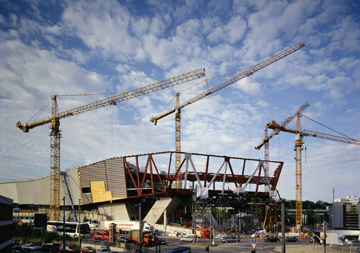 Liebherr Cranes at the New Porsche Museum
The construction of the new Porsche museum in the direct vicinity of the renowned automobile manufacturer's main site in Stuttgart-Zuffenhausen is an architectural high point. Three Liebherr top-slewing cranes from the EC-H series are in operation on the project.
By the time of completion, many thousand tonnes of steel will have been used in this demanding job. Hence the construction cranes must have excellent material-handling capacities and prove highly reliable. The EC-H cranes from Liebherr are perfectly equipped for such challenges, since all their loads can be moved in 2-fall operation.
The three cranes employed, the EC-H 140, EC-H 256 and EC-H 550, have maximum hook heights of 33,4 m, 37,8 m and 72,2 m, and working radii of between 55 and 71,5 m. In the optional Litronic version, a 20% greater load capacity can also be achieved at the touch of a button on both the EC-H 140 and EC-H 550.
The new Porsche museum comprises two large building sections. The lower section consists of two-story underground parking and a foyer. Placed on top of this, the second building section provides 5600 m2 of exhibition space, which will be home to the museum's 80 most valuable vehicles and a further 200 exhibits illustrating Porsche history.
In addition to the exhibition space, the Porsche museum will also feature a workshop in which the historic vehicles and exhibition pieces can be restored. Anyone who is interested can watch the workshop staff going about their restoration work.
What is more, the building complex houses numerous event and conference rooms, a gift shop, a coffee bar and a restaurant serving international cuisine.
Work is set to be completed by the end of 2008. Once open, Porsche is expecting at least 200 000 visitors per year.
Source: Liebherr