Smarter, Smaller and Stronger, Hydraulic Above-Deck Air Compressor Unleashed by VMAC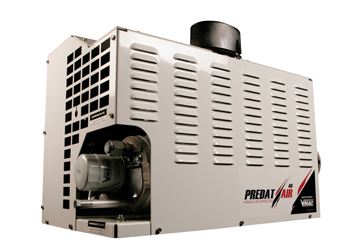 VMAC announced recently the release of North America's "lightest and most compact above-deck hydraulic air compressor available in its class", the PREDATAIR40.
Delivering up to 40 CFM and 150 PSI at a dry weight of 150 LBS, the rotary-screw PREDATAIR40 provides a unique combination of power and compact installation. For today's operator, this combination translates into savings in deck space and payload, without compromising airpower required on the jobsite. "Users tend to underestimate how much air their pneumatic tools require, buying heavy and less powerful air compressor systems incapable of powering tools for optimum performance. The VMAC PREDATAIR40 runs impact guns, air ratchets, hand-held chisels, air chucks and hammer drills with ease, and all from a 43x45x61 cm package." said Eric Bertram, account representative for Central U.S.
According to VMAC, size and output is only the tip of the engineering iceberg. The PREDATAIR40 is also boasting sophisticated system intelligence and user-interface. "We've outfitted the PREDATAIR40 with cold and soft start features, unload circuit, standby mode, service reminders and system status display. Unlike other hydraulic air compressors, the PREDATAIR40 protects itself and the hydraulic system, saving maintenance and fuel costs, and allowing for operation in extreme climates." said Sam Melvin, engineer.
"As Canadians, we know cold. That's why VMAC systems have built-in freeze protection for operation in cold temperatures," furthers Eric Bertram.
The rotary-screw PREDATAIR40 can operate at 100% duty cycle, and includes its own cooling system and a remote LCD digital control box, complete with system diagnostics, servicing intervals, compressor and hydraulic temperature readings, and total system hours.
Quoted by VMAC representatives as the "smarter, smaller, and stronger" hydraulic air compressor, the PREDATAIR40 will be on display at the NTEA Work Truck Show in Atlanta, Georgia.
Source: VMAC