Noise Problems Eliminated on Bridge and Tunnel Hydrodemolition Projects
John Hooper, Joem Promotions
Special Collaboration
Quietly does it in Stockholm's tourist center as new Ecosilence Power Pack from Aquajet makes its debut on extensive city center bridge and tunnel hydrodemolition projects; beating all expectations and making all noise-related problems a thing of the past. Aquajet's new Ecosilence Power Pack is currently being tested to its limits in renovation work underway at the very heart of Stockholm's historic Old Town and exceeding all expectations according to Swedish hydrodemolition specialist sub-contractor, E-Schakt's project supervisor, Andreas Nordstrom. The company is undertaking hydrodemolition as part of two adjacent city center projects – the 'Three Bridges' and the second phase of work for the heavily-trafficked four lane Söderleds tunnel.
Swedish main contractor NCC is currently restoring Central Bridge , which runs between the Söderleds tunnel and Gamla Stan train station – even as work goes on in the tunnel, and the area is filled with tourists.
The bridge is a key traffic route in Stockholm linking the northern district of Norrmalm and the southern Södermalm. It is 1,2 km long and includes two viaducts over the Söderström and Norrström and has a design capacity for 130 000 cars a day. The Three Bridges project involves restoring the surface of the bridges in the centre of Stockholm , involving a total area of almost 9000 m².
Built in the 1950's the concrete bridge deck surface has become badly deteriorated, particularly over a 500 m length in the center of the 1,2 km long bridge.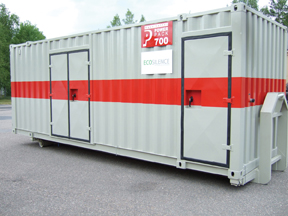 With the southbound tunnel closed in 2007 for repairs, E-Schakt concentrated on preparing the dual carriageway's right-hand lanes, using hydrodemolition techniques and the new Aquajet Power Pack for the center 500 m and water jetting the remainder. During this time, traffic flowed with reduced lane widths to allow two lane movement in each direction but with strict speed restrictions. In June 2008, the second phase began on the inside lane of the city bound dual carriageway. The southbound carriageway has been reconfigured for one lane northbound and two lanes southbound. Phase 3 is scheduled in 2009 to repeat operations in the southbound carriageways.
E-Schakt's Andreas Nordström confirmed that the Aquajet robot is removing concrete down to the first level of rebar on the bridge deck, to a depth of between 10-30 mm.

Söderleds tunnel
Work inside the 1,85 km northbound Söderlends tunnel, in a separate contract for NCC, involves resurfacing both the wall impact protection concrete slabs and the roof. The 600 mm high concrete slab on both sides of the tunnel is being stripped to a depth of 10-30 mm; where it has been damaged by stones and salt, thrown up by the heavy traffic along the full tunnel length.
At the base of the 'slab', a 300 mm deep trench has been excavated below the road surface to allow access for additional 'stripping' up to 100 mm. The tunnel roof is water blasted at 1000 bar to clean and remove up to 2 mm of concrete to make ready for the application of fire protection.
With repairs in the 750 m southern part of the southbound tunnel completed in 2007, including the addition of fire protection finishes, work started on the northern half of the tunnel in June 2008 in a 12 week contract throughout the summer months. During the rehabilitation operation, including hydrodemolition works, the southbound traffic tunnel remains closed to traffic, with the northbound tunnel configured for two-way traffic flow.

Noise control
The Ecosilence Power Pack's performance is very much appreciated on the bridge – its noise level being less than half that of conventional power packs and similar to that of a normal conversation. The use of conventional power packs in open areas often requires special 'shells' to be fitted over them at an additional cost of up to €10 000 according to Aquajet Systems sales and marketing manager Jan-Åke Petersson. Its development will help contractors meet the increasingly stringent operational noise requirements that are imposed when working close to sensitive locations such as residential and office complexes. This is a key factor for us," said Andreas Nordström, continuing, "Its operation on this city center project has been so quiet, it's a real city machine."

Significant fuel savings
Use of Ecosilence also achieves a substantial reduction in fuel consumption compared to conventional power packs, saving an estimated €35 000 a year in a typical operation.
Traditional power packs use between 105 l/hr and 120 l/hr and fuel consumption is of increasing concern both in environmental terms and because of today's escalating prices. Ecosilence's efficient design means a saving of up to 30 l/h when producing a water output of 200 l/min at 1000 bar and 1500 rpm at just 70% of its full power capacity. This compares with competitive units operating at 100% for 200 l/min at 1000 bar and 2100 rpm to achieve the same output.

Key features
Key features of the Ecosilence Power Pack include:
a 40% increase in sound insulation, including the provision of tailor-made seals for all doors and hatches to block noise propagation;
specially-designed wall construction, with an acoustic surface treatment and sound-absorbing insulation to reduce noise and vibrations;
a purpose-built steel enclosure that features two hydraulically-operated hatches for the engine compartment so that the operator can vent excess hot air between operations;
an advanced heat exchange system in place of traditional cooling;
incorporation of new criteria into the exhaust silencer, with every aspect rigorously considered including the location, shape and fastenings;
a vibration dampener that has been specially designed for the Ecosilence;
pipes, hoses and tubing that have been refined and improved in line with the new design approach;
a specially adapted marine diesel engine with high torque power.
According to NCC project manager, Mr. Halvarsson, "Hydrodemolition was specified for the work on the bridge and tunnel because jackhammers cause too much disturbance."
"With hydrodemolition you don't damage the concrete and you also have a better surface to work with. There is also no possibility of causing any cracks, whether micro-cracks or bigger ones," he said, adding, "Another advantage is that the water jets also get right under and behind the rebar," he added. "There will be a lot more of this kind of restoration using hydrodemolition taking place in Stockholm in the next few years."

Into its own
Within two weeks E-Schakt anticipate the Ecosilence Power Pack will be moved to a 6-story car park in the center of Stockholm. Work was halted over the summer months with the first three decks stripped to a depth of 20 mm. "But," confirmed Andreas Nordström, "work was continually halted with complaints of noise by adjacent apartment residents despite extensive treatment to the Power Packs. We are confident that the Aquajet Power Pack will meet the challenge and we anticipate no noise problems. It is perfect for this type of city project."
Located in Stockholm's Sodermalm district, the park had been built in the 1980's. The concrete decks have become badly affected by salt and water ingress with no camber slope for water run off. The new decks will be laid with a slope following more than 80 000 m2 being treated by the Aquajet hydrodemolition robot and Power Pack over the remaining seven floors.

Hydrodemolition techniques
"The popularity of hydrodemolition is now growing worldwide," Mr. Petersson added. "In Sweden and other Scandinavian countries, no other form of demolition is permitted for repair works and it is also now being recommended in various German states," he said. "In addition, a new EU Standard is expected next year and we believe it will push hydrodemolition forward."